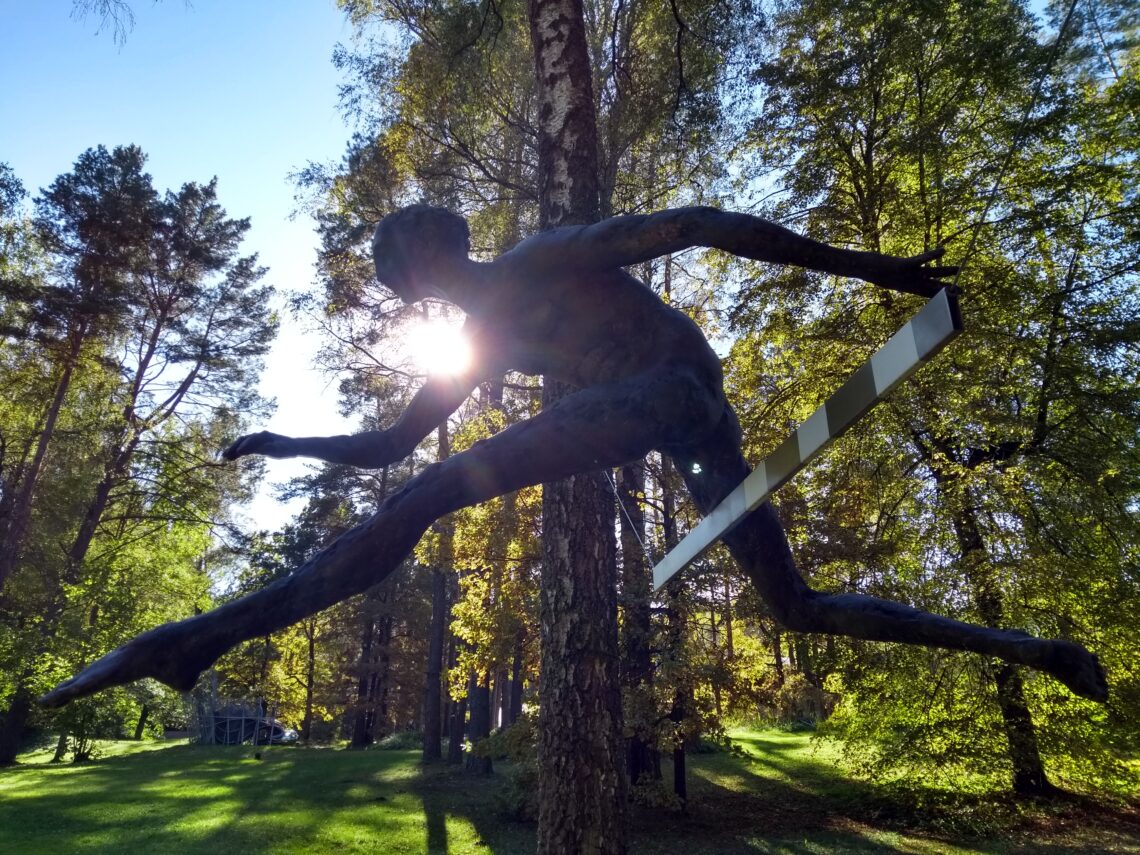 #17 Kalvarijų-Markt und Europos Parkas / Kalvarijų Market and Europos Parkas
Am Sonntag schien die Sonne, keine Wolke am Himmel. Jemand fragte, ob ich Lust hätte, mit in den Europos Parkas zu kommen. Beim Blick auf die Internetseite fragte ich mich, ob das der Skulpturenpark war, den ich schon während des Schüleraustauschs besucht hatte. Ich hatte ihn damals nicht sonderlich spektakulär gefunden, aber die Chance auf ein gemeinsames Walderlebnis bei gutem Wetter wollte ich mir nicht entgehen lassen. Anders hätte ich auch nicht mehr herausfinden können, ob ich in dem Park tatsächlich schon war.
/
The sun was shining on sunday, not a cloud in the sky. Someone asked if I would like to come to Europos Parkas. Looking at the website, I wondered if this was the sculpture park I had already visited during the student exchange. I hadn't found it particularly spectacular then, but I didn't want to miss the chance to experience the forest together in good weather. Otherwise I wouldn't have been able to find out whether I had actually been to the park.
Wir nahmen mittags den Bus und was zu lesen mit – die Fahrt dauerte über eine Stunde. Cool war, dass wir am Kalvarijų-Markt umsteigen mussten, den ich schon einige Male beim Vorbeifahren bestaunt hatte. Wir hatten sieben Minuten Umstiegszeit, um einen Blick hineinzuwerfen.
/
We took the bus and something to read at lunchtime – the journey took over an hour. What was cool was that we had to change at the Kalvarijų market, which I had already admired a few times when driving past. We had seven minutes to change buses and take a look inside.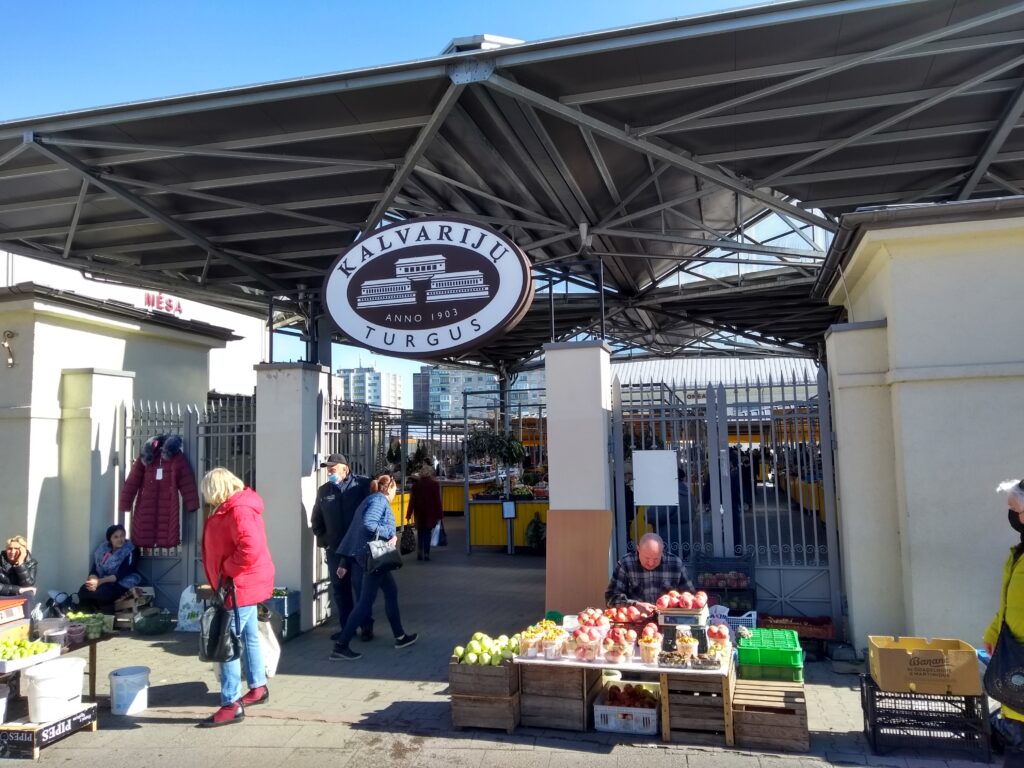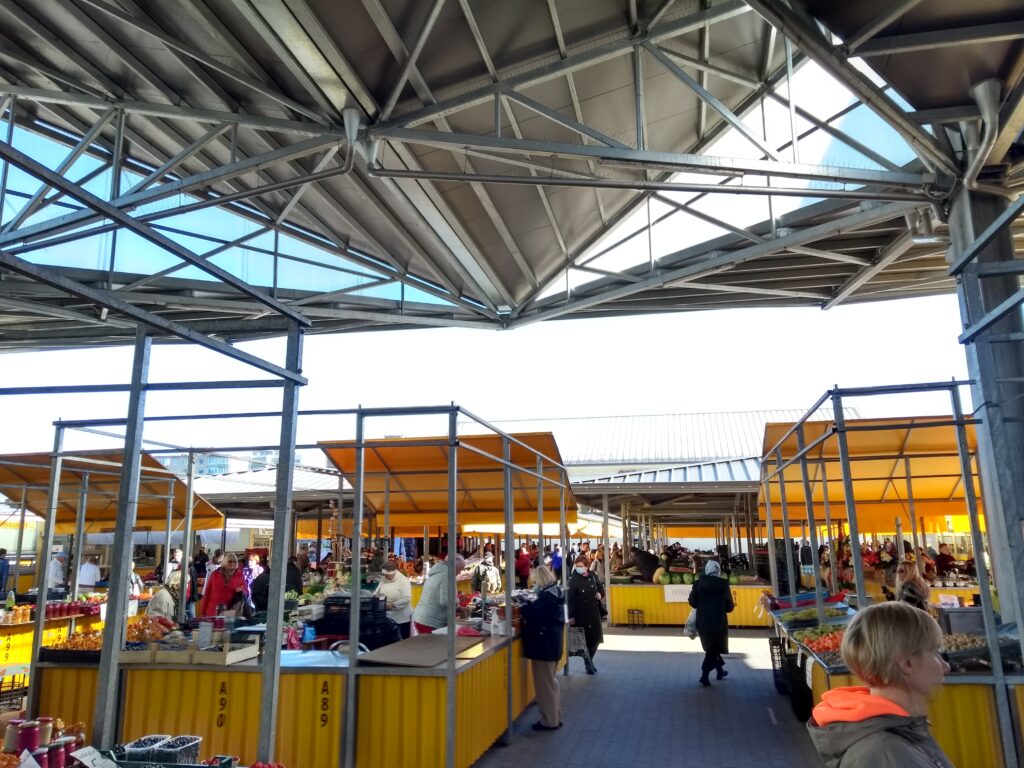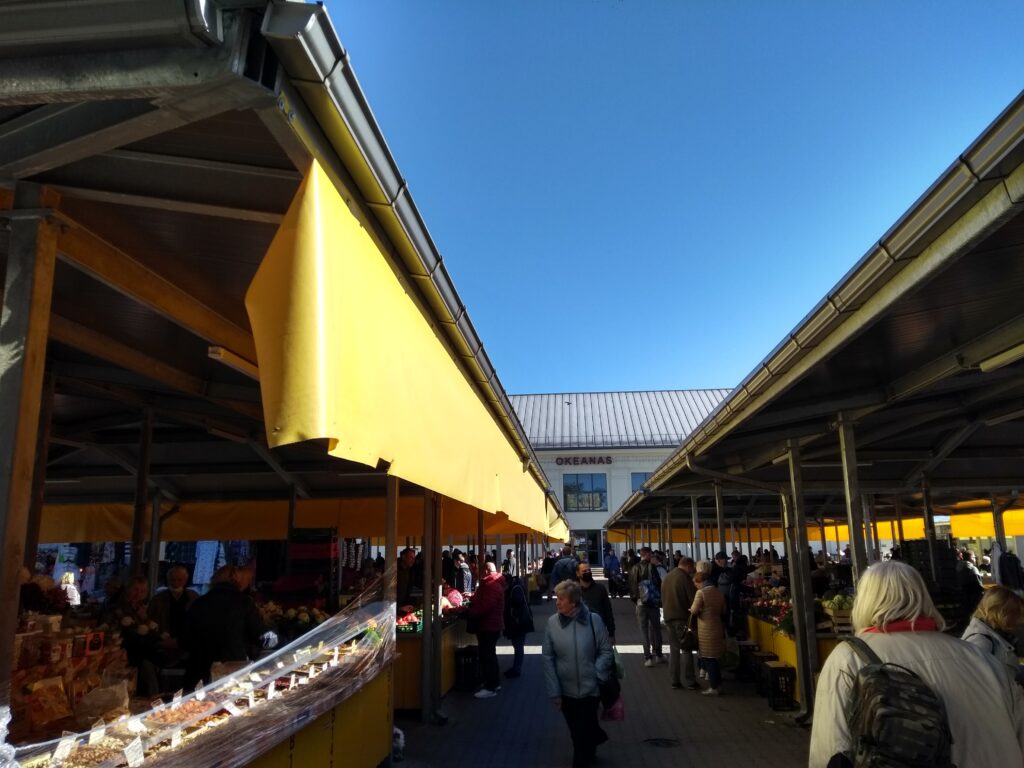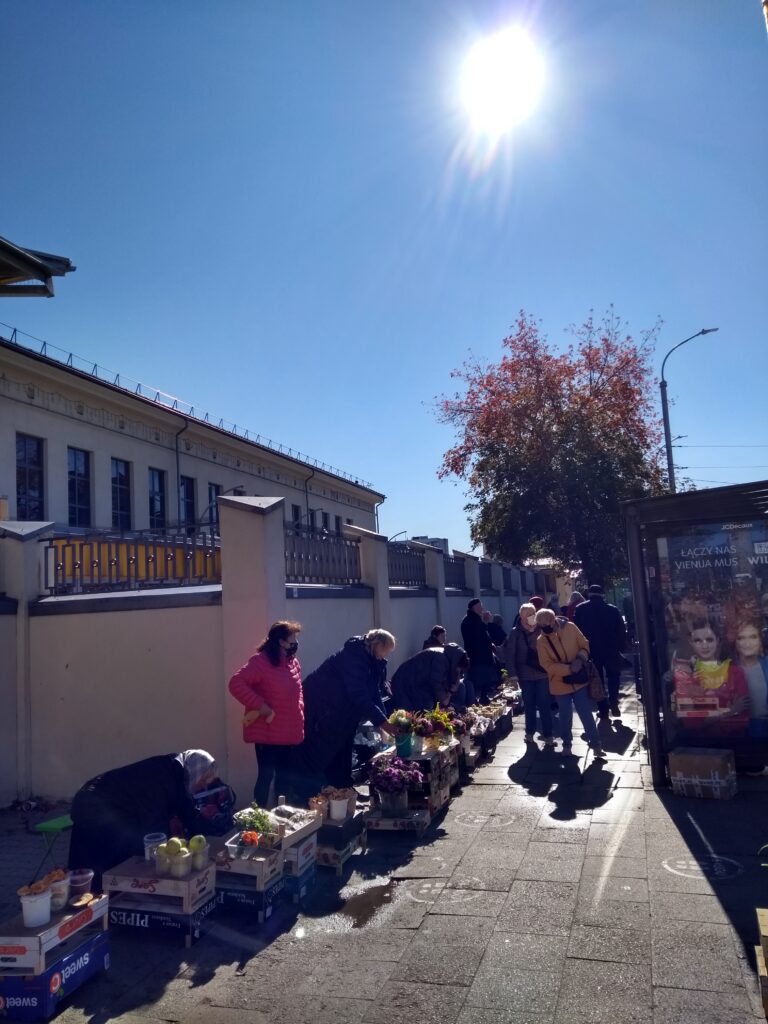 Dann ging es weiter. Der Bus fuhr eine längere Strecke durch den Verkiai Regional Park, hohe Bäume und kleine Seen zogen an uns vorbei. Ich mag Kiefern und Birken. Wir wurden direkt vor dem Europos Park abgesetzt. Er ist auch als Freilichtmuseum des Zentrums Europas bekannt. Ein Studierendenticket kostet 9€, verhältnismäßig viel.
/
Then the journey continued. The bus drove a long distance through Verkiai Regional Park, tall trees and small lakes passed us by. I like pines and birches. We were dropped off right in front of Europos Park. It is also known as the Open-air Museum of the Centre of Europe. A student ticket costs 9€, relatively much.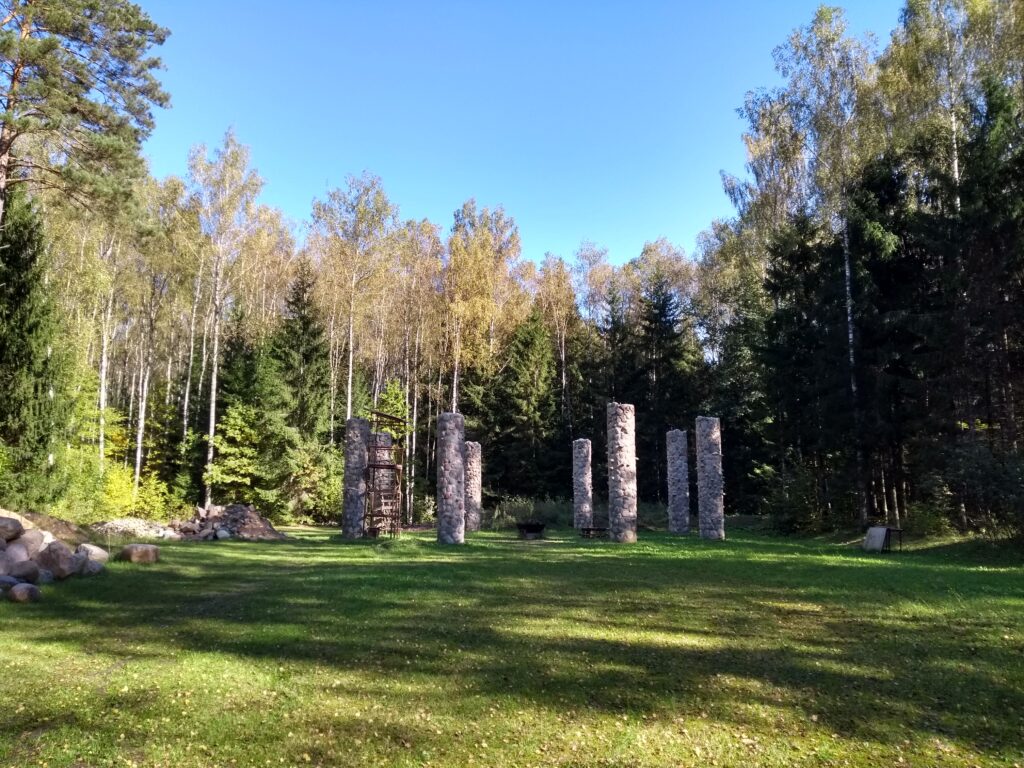 War ich hier schon gewesen? Ich war nicht sicher. Die Fernseher kamen mir bekannt vor:
/
Had I been here before? I wasn't sure. The TVs looked familiar: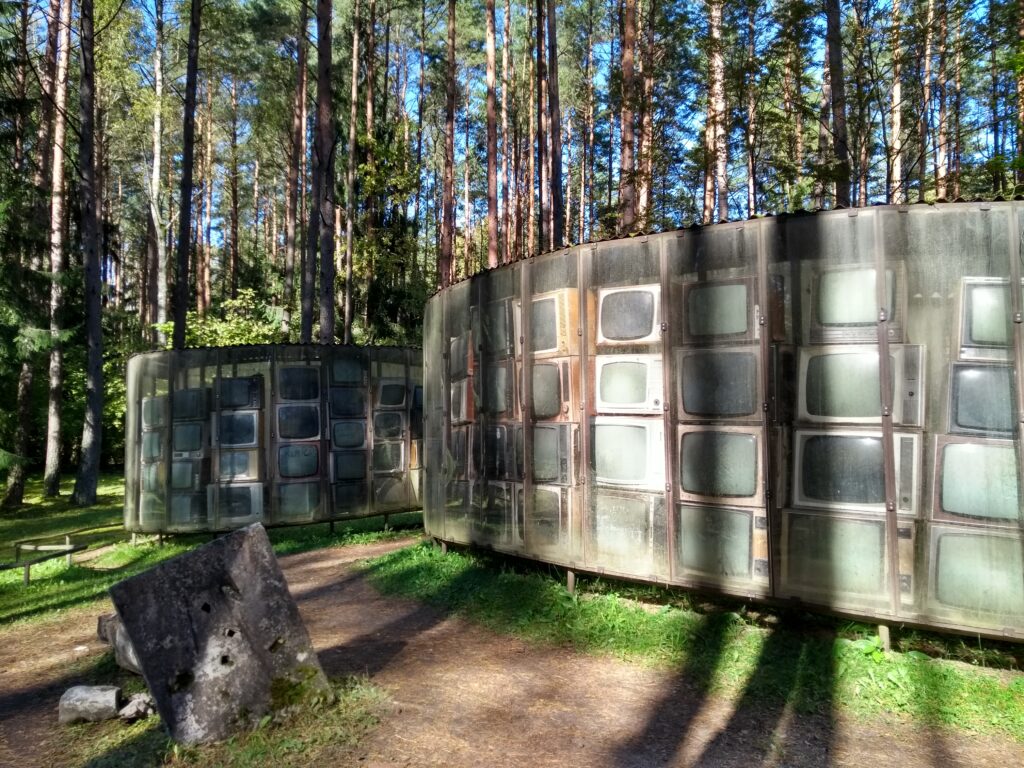 Mit manchen Kunstwerken konnte ich nicht viel anfangen. Wir hatten einen Plan bekommen, auf dem die Skulpturen eingezeichnet und nummeriert waren. Auf der Rückseite standen die Titel; manche erschienen mir ebenso nichtssagend, andere brachten Lichts ins Dunkel.
/
I couldn't do much with some of the artworks. We had been given a plan on which the sculptures were marked and numbered. The titles were written on the back; some seemed equally meaningless to me, others brought light into the darkness.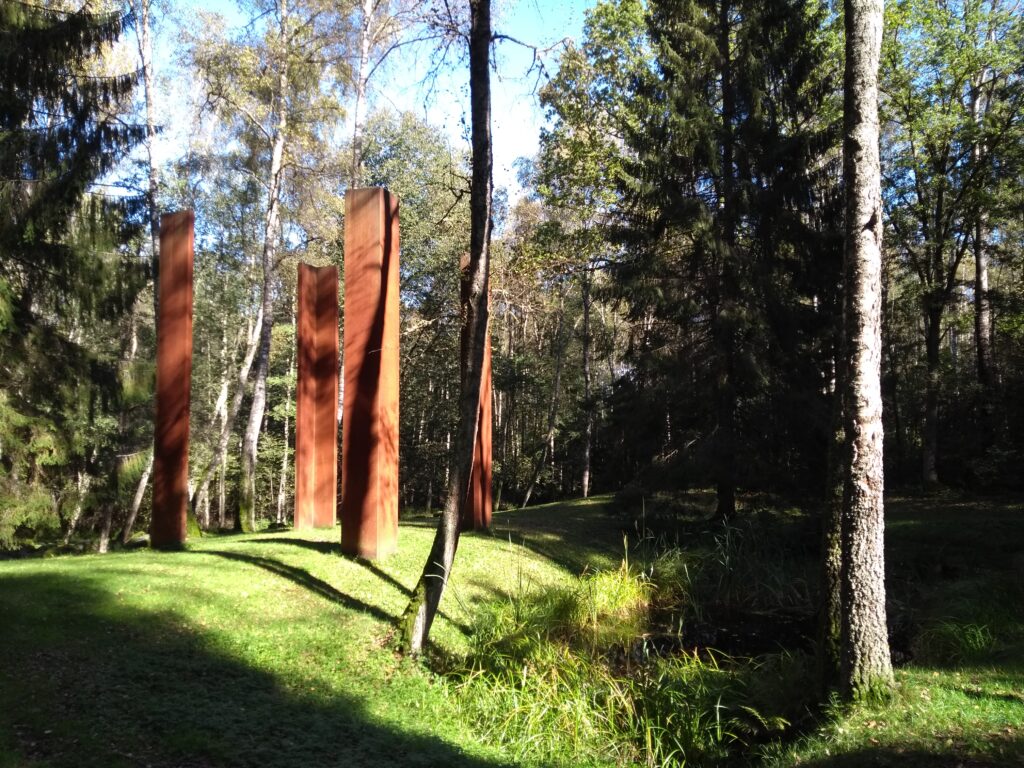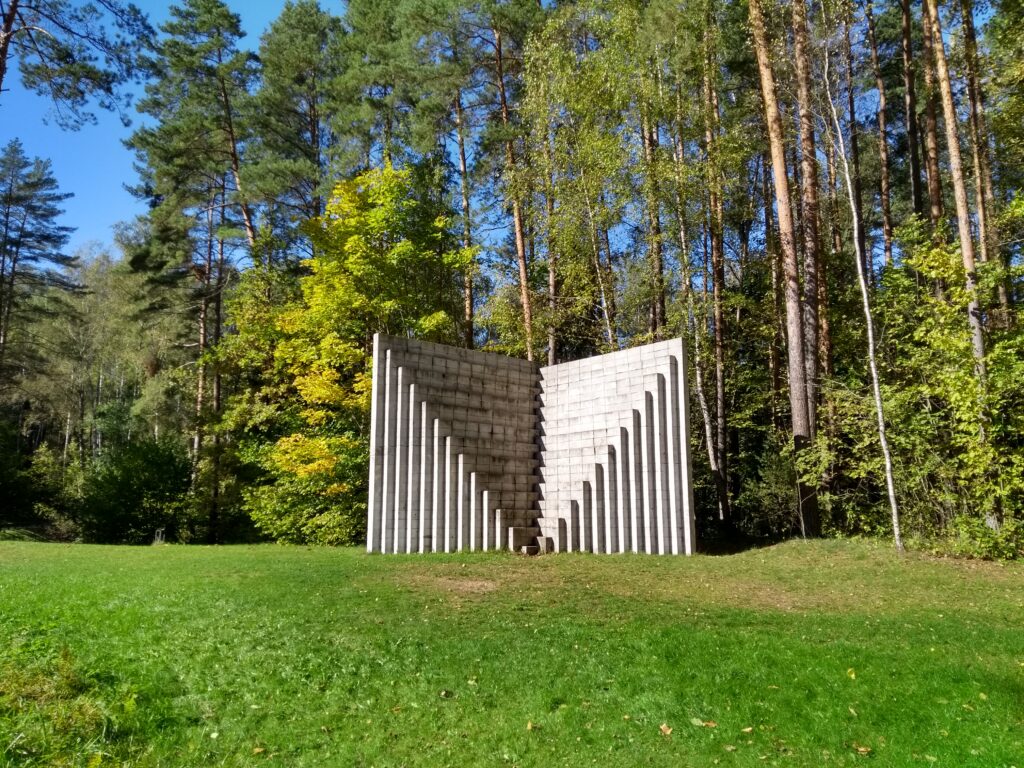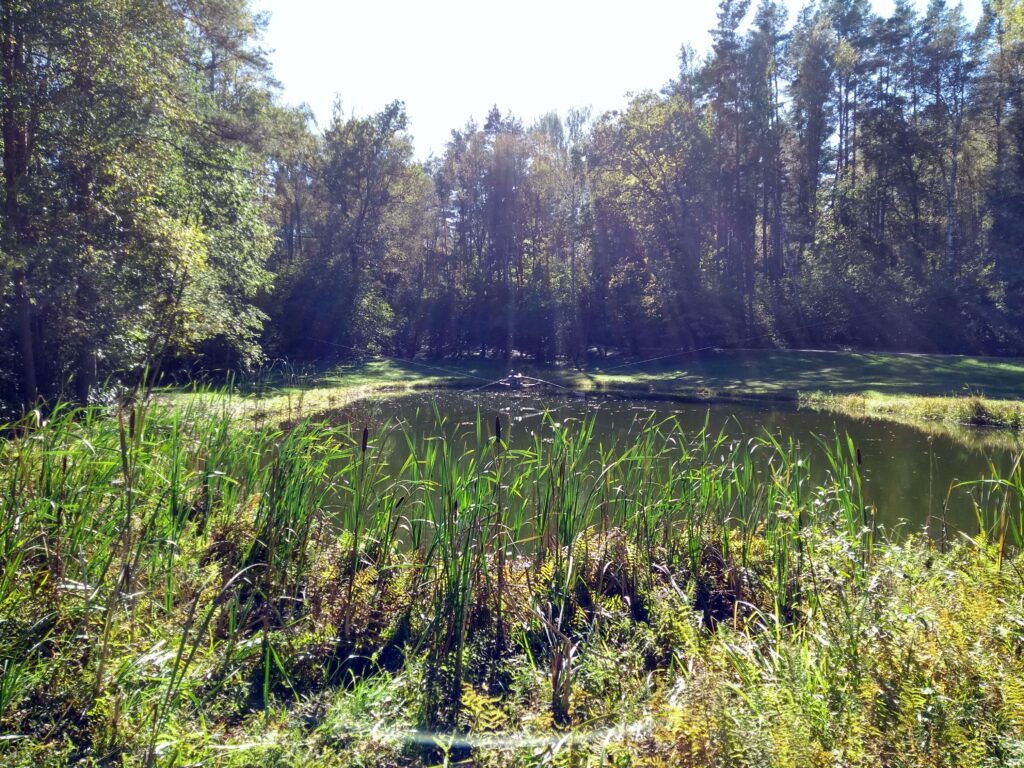 In der Luft schwebende Figuren, wie dieser Ruderer, waren auf der Karte mit einem blauen Punkt markiert. Stell dir vor, es gäbe einen Waldfriedhof, wo du in Bronze gegossen und in einer akrobatischen Pose aufgehängt wirst. Die Figuren verharren in Schönheit für so viele Betrachter jahrzehntelang.
/
Figures floating in the air, like this rower, were marked on the map with a blue dot. Imagine if there was a forest cemetery where you were cast in bronze and hung in an acrobatic pose. The figures linger in beauty for decades for so many onlookers.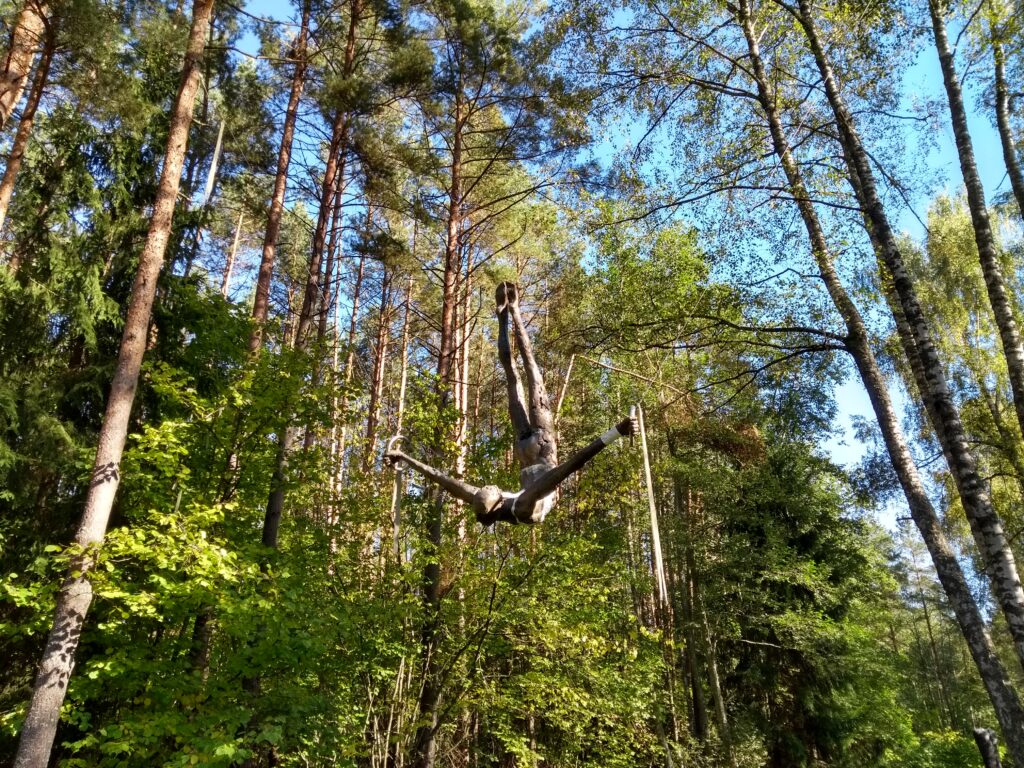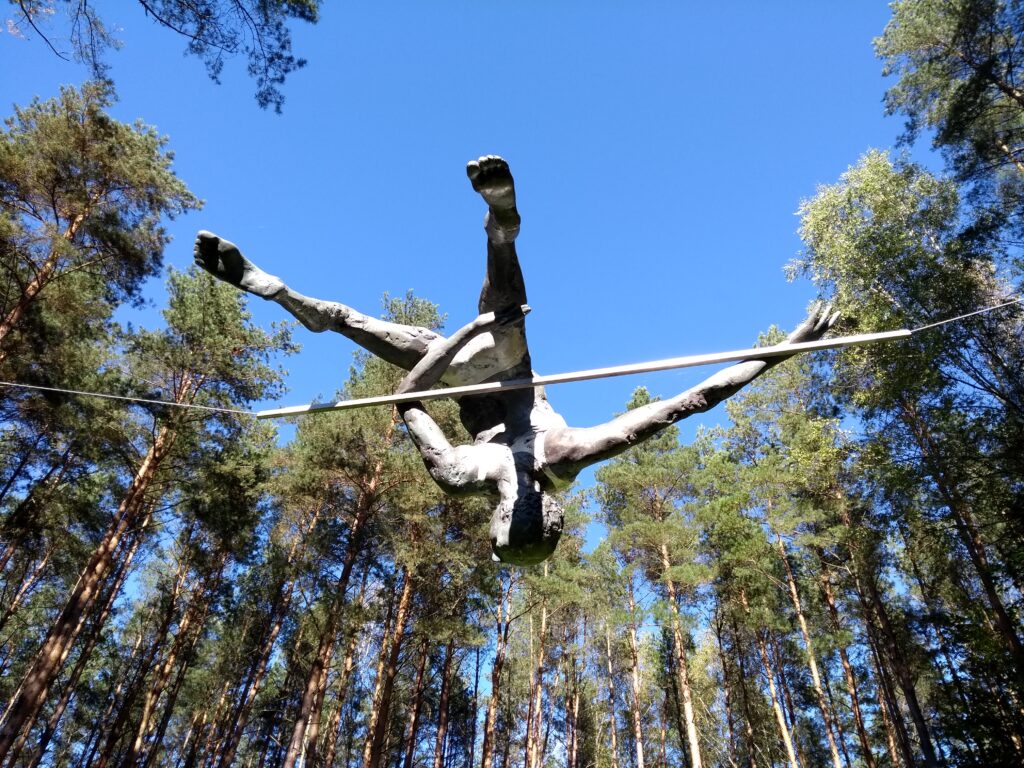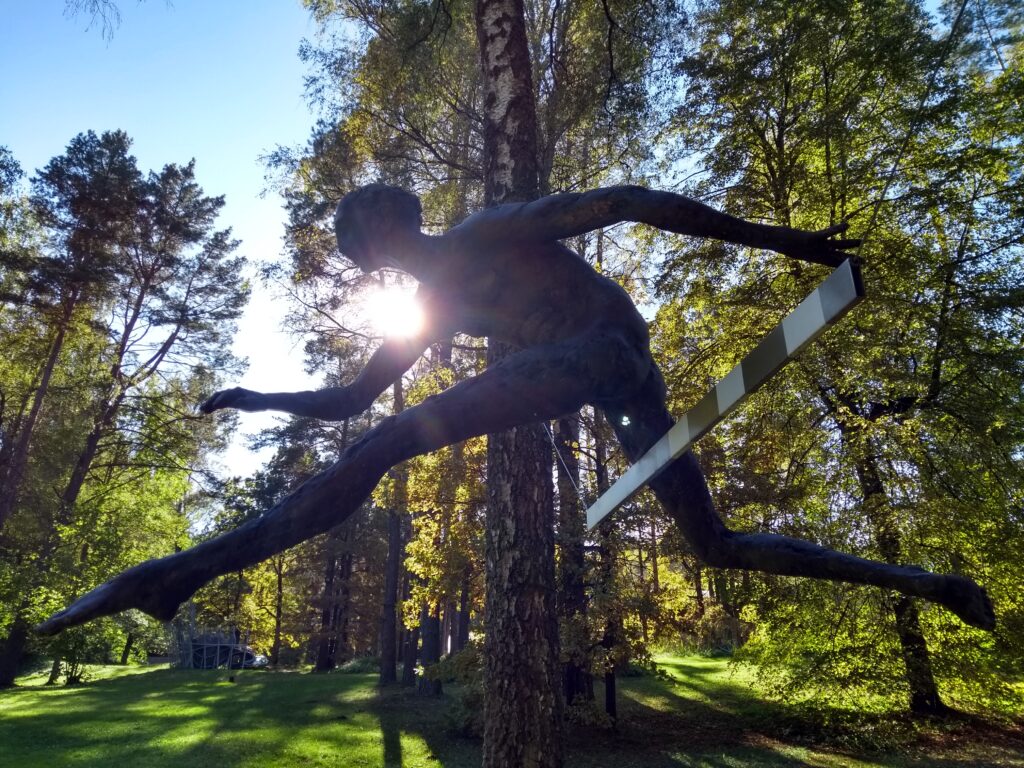 An einem Baum war eine Schaukel angebracht. Gib Erwachsenen eine besetzte Schaukel für Erwachsene und sie denken: "Ich will auch mal." Oder die Erinnerung an einen Kindheitstraum: Eine Hütte auf Rädern, von der aus eine Rutsche ins Wasser führt.
/
There was a swing attached to a tree. Give adults an occupied swing for adults and they think: "I want to try it too". Or the memory of a childhood dream: a hut on wheels from which a slide leads into the water.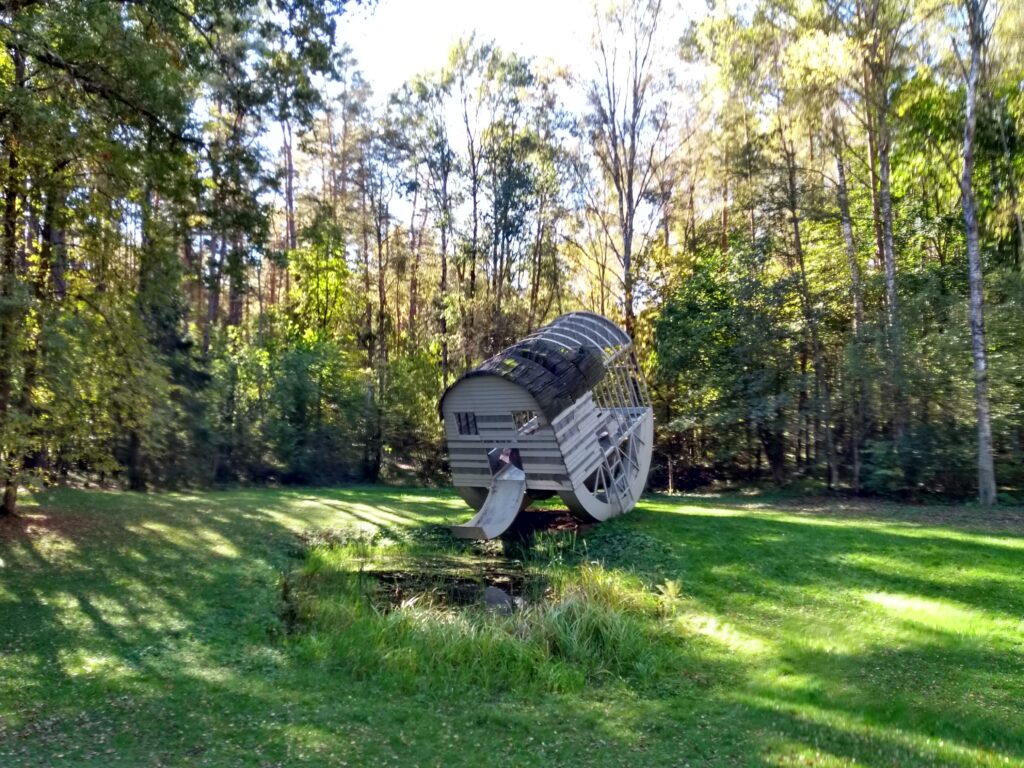 Eine andere Poolversion stellte dieser Sessel dar:
/
This armchair represented another pool version: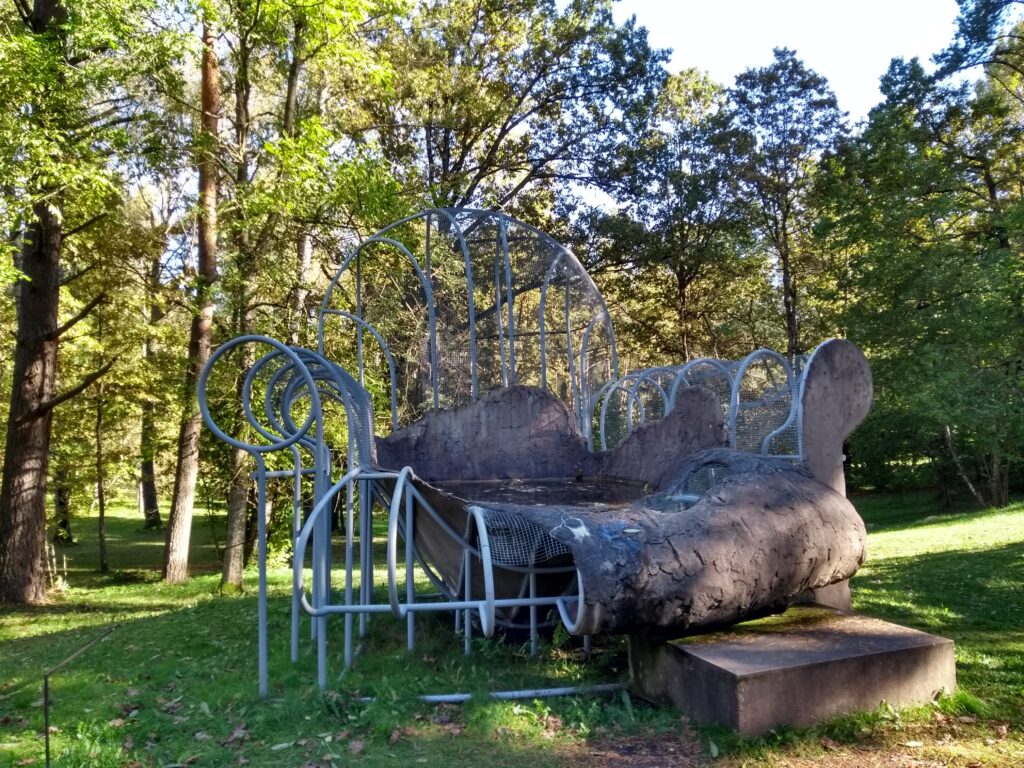 So ein Sessel-Pool wäre bestimmt angenehm. Ein König könnte auf einem solchen Thron tagein, tagaus sitzen, ohne auch nur einmal wohin zu müssen. Es sei denn, er bekäme eine Blasenentzündung. Jedenfalls – ich hatte das immer deutlicher werdende Gefühl, das alles schon einmal gesehen zu haben.
/
Such an chair pool would certainly be pleasant. A king could sit on such a throne day in and day out without ever having to go anywhere. Unless he got a bladder infection. Anyway – I had the increasingly clear feeling that I had seen it all before.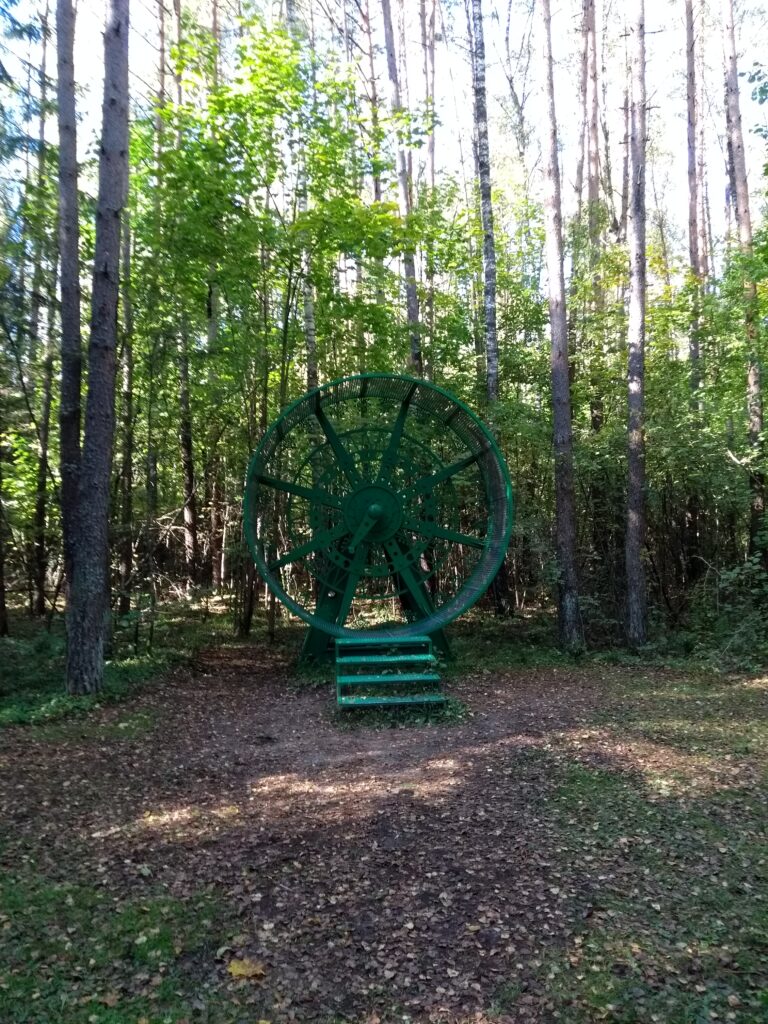 Mir hat es Spaß gemacht, dieses Hamsterrad auszuprobieren. Wer hat eigentlich das Hamsterrad erfunden? Ein Hamsterbesitzer, der wollte, dass sein Hamster auch im Käfig rennen kann?
Als nächstes kamen wir an eine Lichtung, wo ich ganz klar sah, dass ich hier schon gewesen war. In dem Café hatten wir gesessen und dann hatte die Sportlehrerin das Rhönrad auf dem Spielplatz dahinter ausprobiert.
/
I had fun trying out this hamster wheel. Who actually invented the hamster wheel? A hamster owner who wanted his hamster to be able to run in a cage?
Next we came to a clearing where I saw quite clearly that I had already been here. We had sat in the café and then the sports teacher had tried out the wheel on the playground behind it.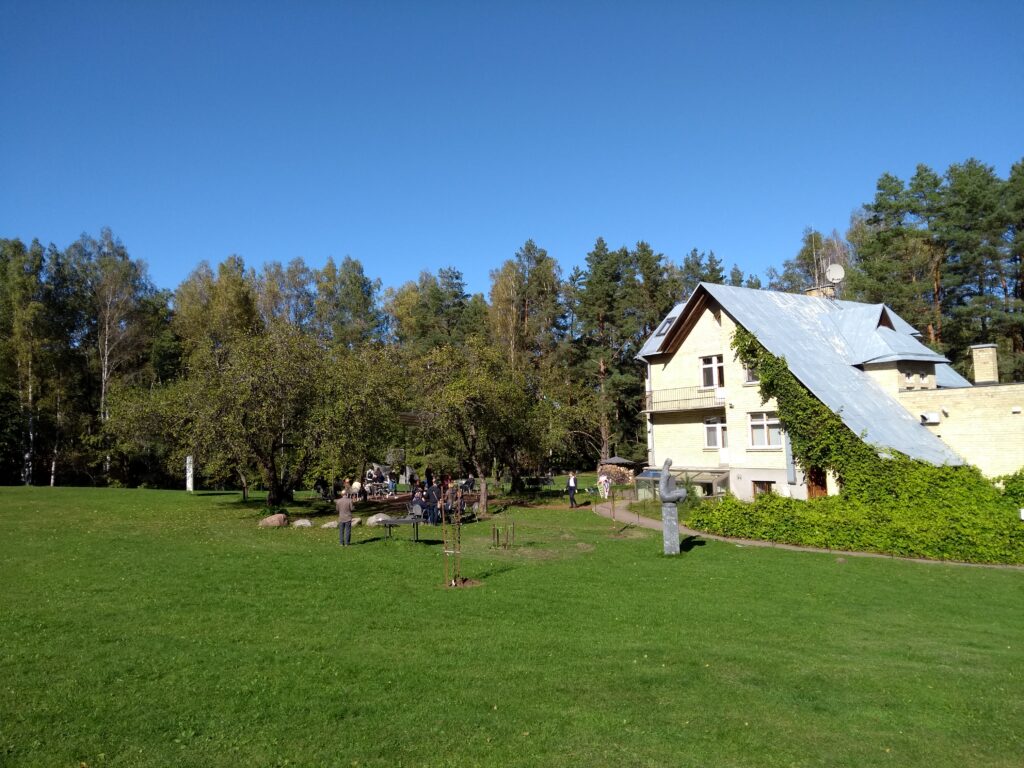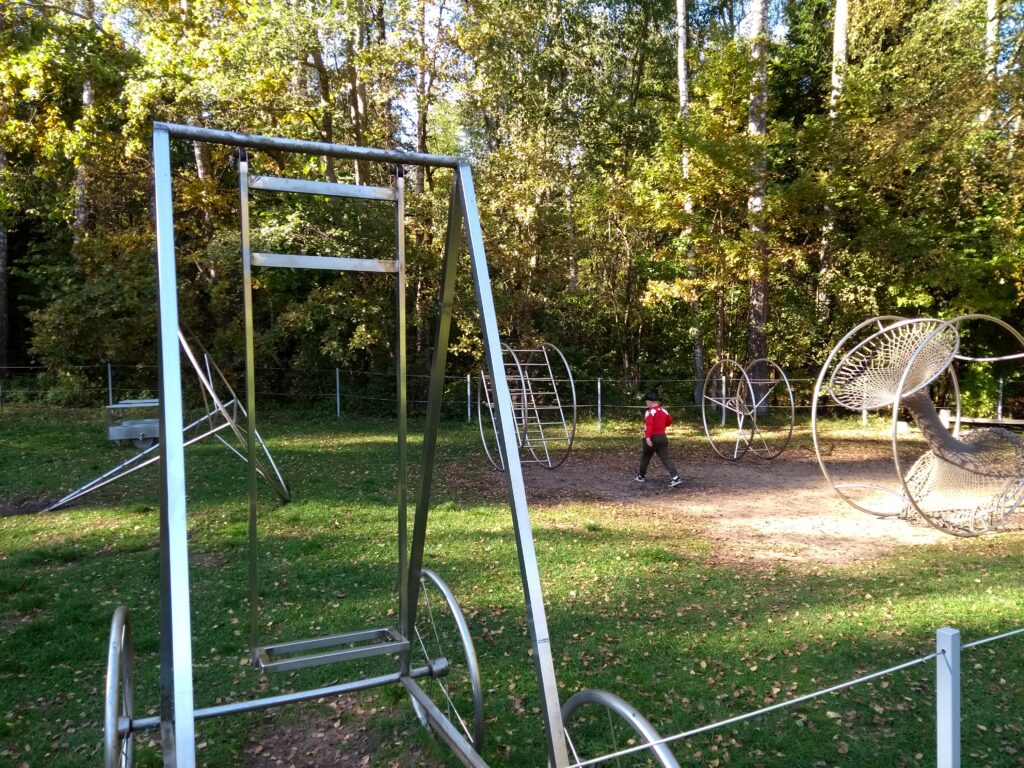 Das Highlight aber war diese unscheinbare Pyramide:
/
But the highlight was this inconspicuous pyramid: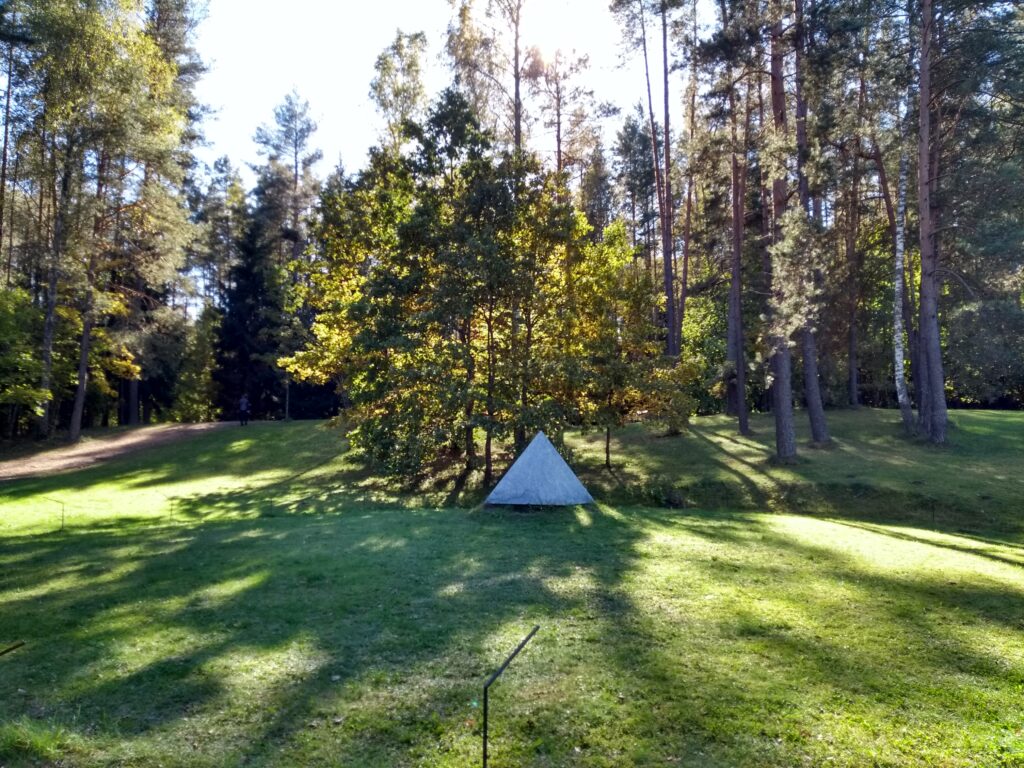 Dies ist der geografisch berechnete Mittelpunkt Europas. Für mich fühlt er sich sehr nordöstlich an. Ich bin noch nicht so weit gekommen, wie gedacht, aber immerhin habe ich die Mitte gefunden. Im Kreis waren Steinplatten angebracht, die anzeigten, wie weit entfernt bestimmte Städte lagen.
/
This is the geographically calculated centre of Europe. It feels very north-easterly to me. I haven't got as far as I thought I would, but at least I've found the centre. There were stone slabs in the circle indicating how far away certain cities were.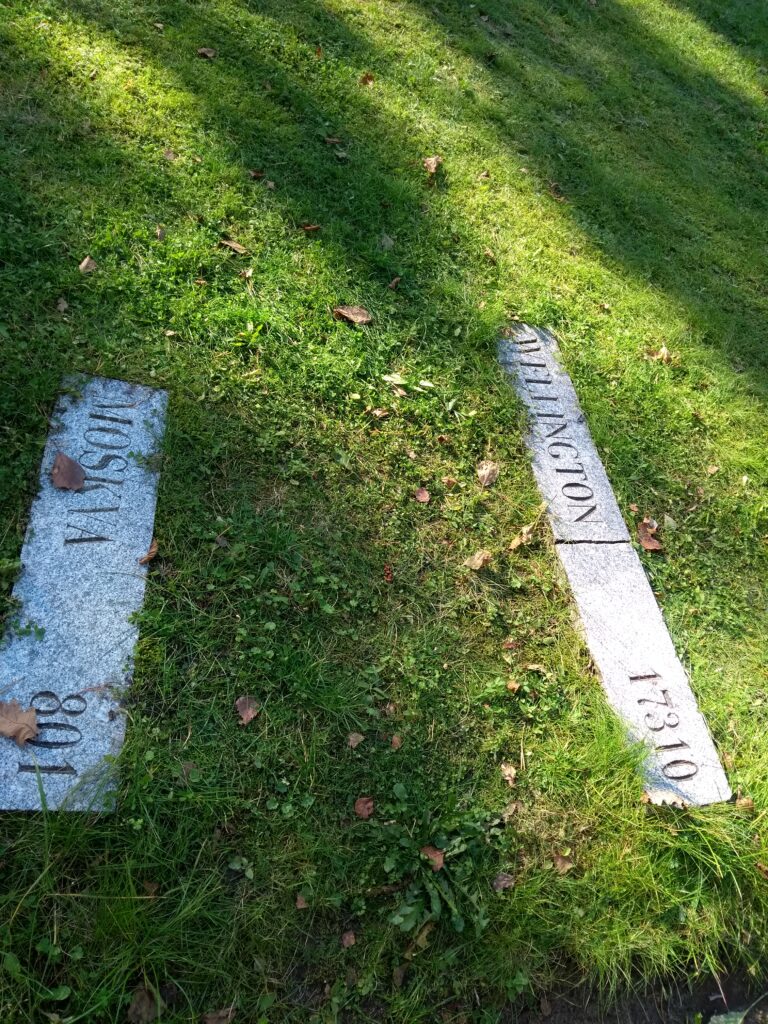 Beim ersten Mal hatte ich den Park bis hierhin ziemlich schnell abgeklappert. Diesmal ließen wir uns Zeit und versuchten, möglichst keine Skulptur zu verpassen. Wenn man so vorgeht, kann man in dem Park durchaus gute drei Stunden verbringen. Wenn man es eilig hat, kann man aber auch schon innerhalb einer Stunde einen guten Einblick gewinnen, so groß ist der Park nicht. Ich habe nur ein paar Skulpturen für Fotos ausgewählt, es gibt noch sehr viel mehr zu sehen!
/
The first time, I had covered the park up to here quite quickly. This time we took our time and tried not to miss any sculpture. If you do that, you can spend a good three hours in the park. But if you're in a hurry, you can also gain a good insight within an hour, the park is not that big. I have only selected a few sculptures for photos, there is a lot more to see!