#36 Straße der ukrainischen Helden, Fest des heiligen Kasimir und Litauens zweiter Unabhängigkeitstag / Street of Ukrainian Heroes, Feast of St. Casimir and Lithuania's Second Independence Day
Gleich drei Personen aus Deutschland haben mir die Nachricht geschickt, dass Vilnius der Straße, die zur russischen Botschaft führt, den Namen "Straße der ukrainischen Helden" gegeben hat. Wer jetzt einen Brief an die russische Botschaft in Vilnius adressiert, wird dabei an die Opfer der russischen Aggression und die Helden der Ukraine erinnert. Wohin ich gehe, sehe ich Blau und Gelb. Angefangen bei der Katze, die mir auf dem Weg in die Innenstadt oder nach Hause ihren Hintern entgegenstreckt, über Friedenstauben auf der Säule des Engels von Uzupis bis hin zu Brücken und Gebäuden in blau-gelbem Scheinwerferlicht. Ganz zu schweigen von den Flaggen, die aus Fenstern hängen wie Zungen aus schreienden Mündern; von den Bannern, die Menschen als Umhang tragen; von den Fähnchen in ihren Händen.
/
No less than three people from Germany sent me the news that Vilnius has given the name "Street of Ukrainian Heroes" to the street leading to the Russian Embassy. Anyone who now addresses a letter to the Russian Embassy in Vilnius will be reminded of the victims of Russian aggression and the heroes of Ukraine. Wherever I go, I see blue and yellow. From the cat sticking its butt out at me on my way downtown or home, to peace doves on the column of the Angel of Uzupis, to bridges and buildings in blue and yellow spotlights. Not to mention the flags hanging from windows like tongues from screaming mouths; the banners people wear as capes; the little flags in their hands.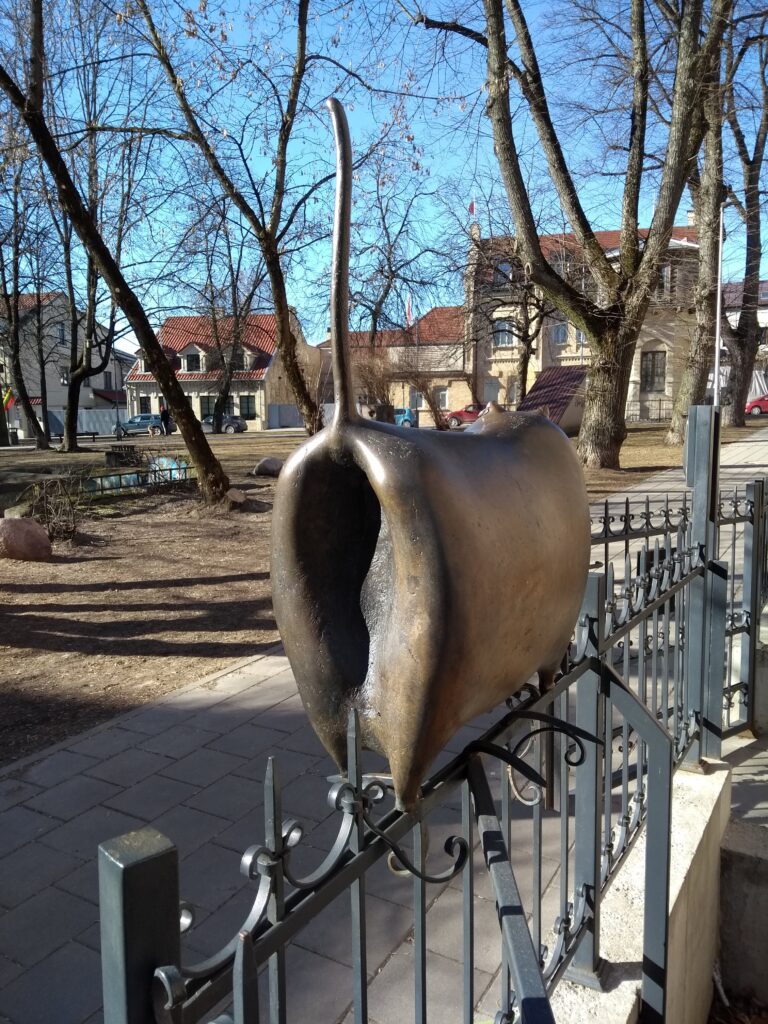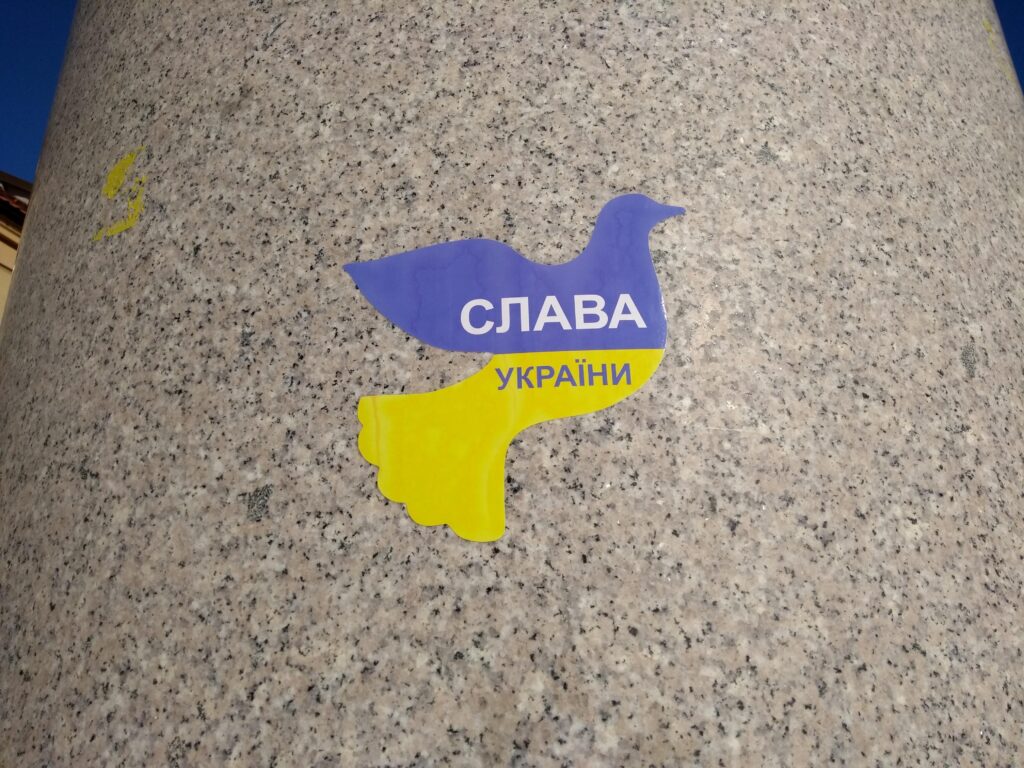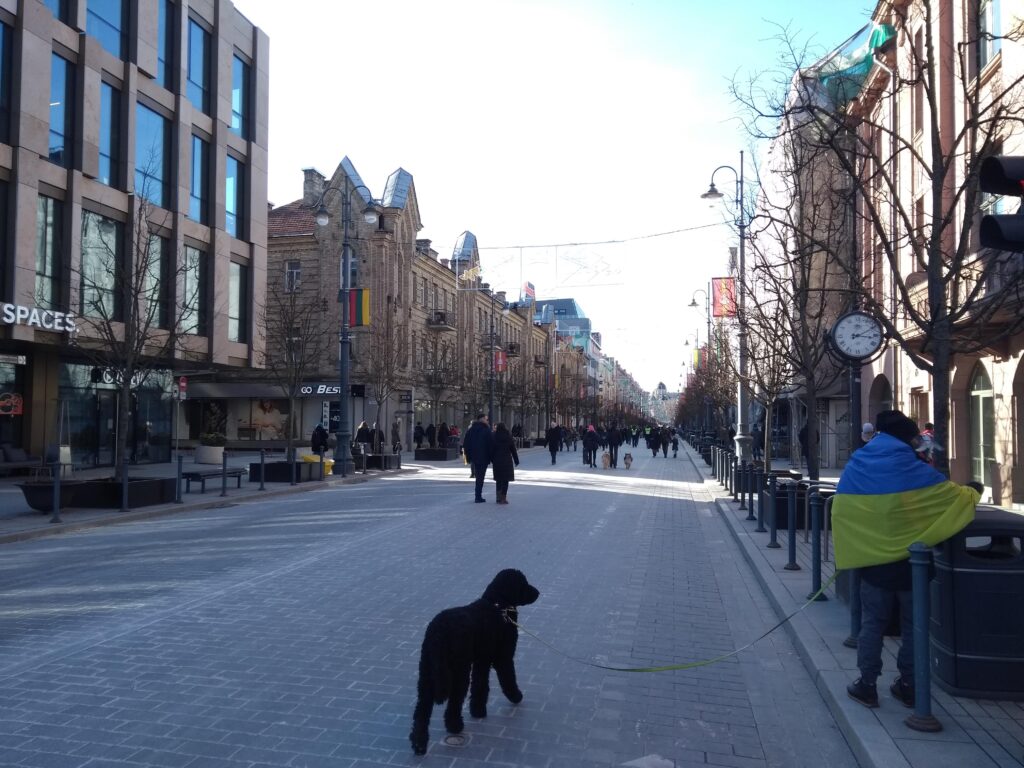 Gestern sah ich über dem Gediminas Turm eine Art Feuerwerk aus Drohnen, umweltschonend, still und schön, so etwas habe ich vorher nie gesehen. Die Drohnen flogen ein rotes Herz und ein blau-gelbes Herz, ich fotografierte sie, als sie bunt gerade landeten:
/
Yesterday I saw a kind of firework display of drones above Gediminas Tower, environmentally friendly, silent and beautiful, I have never seen anything like it before. The drones flew a red heart and a blue and yellow heart, I photographed them as they landed colourfully straight: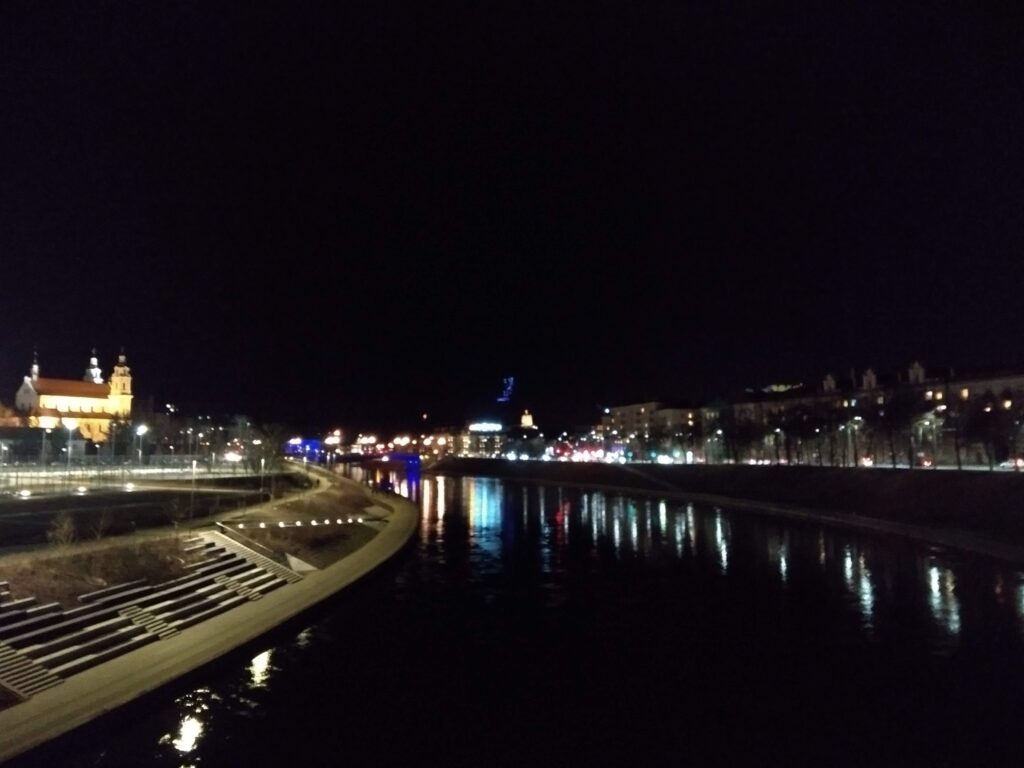 In der Kunstakademie Vilnius fand ein Markt statt, auf dem studentische Kunstwerke verkauft wurden, der Erlös ging an die Ukraine:
/
A market was held at the Vilnius Art Academy where student artworks were sold, with the proceeds going to Ukraine: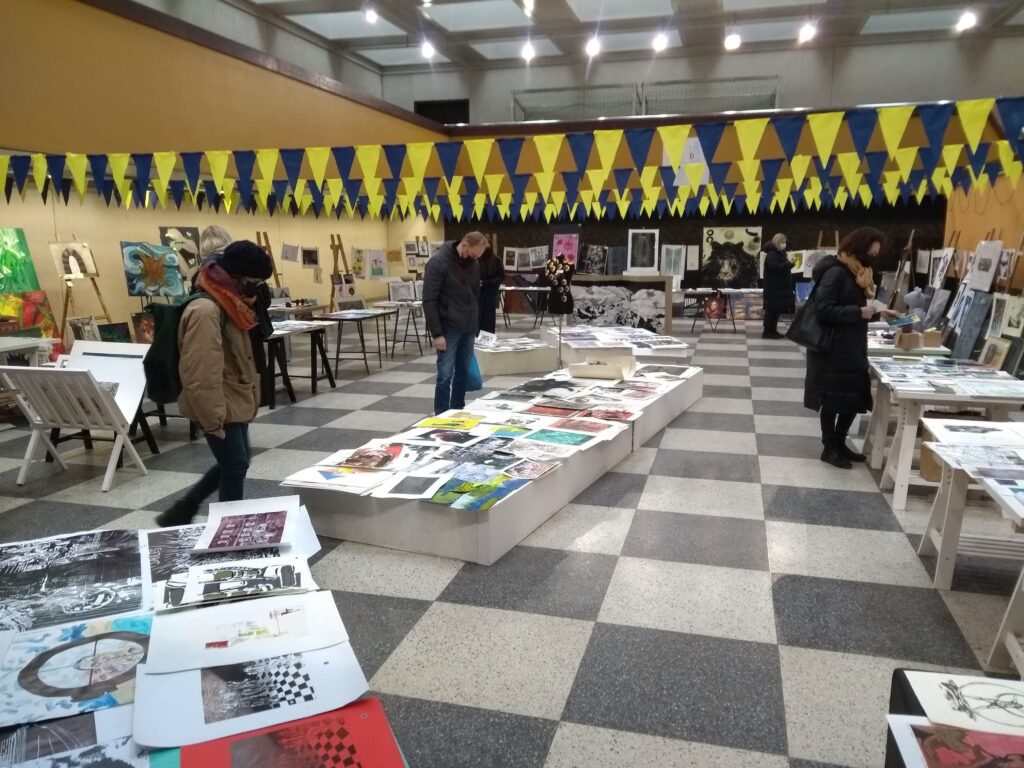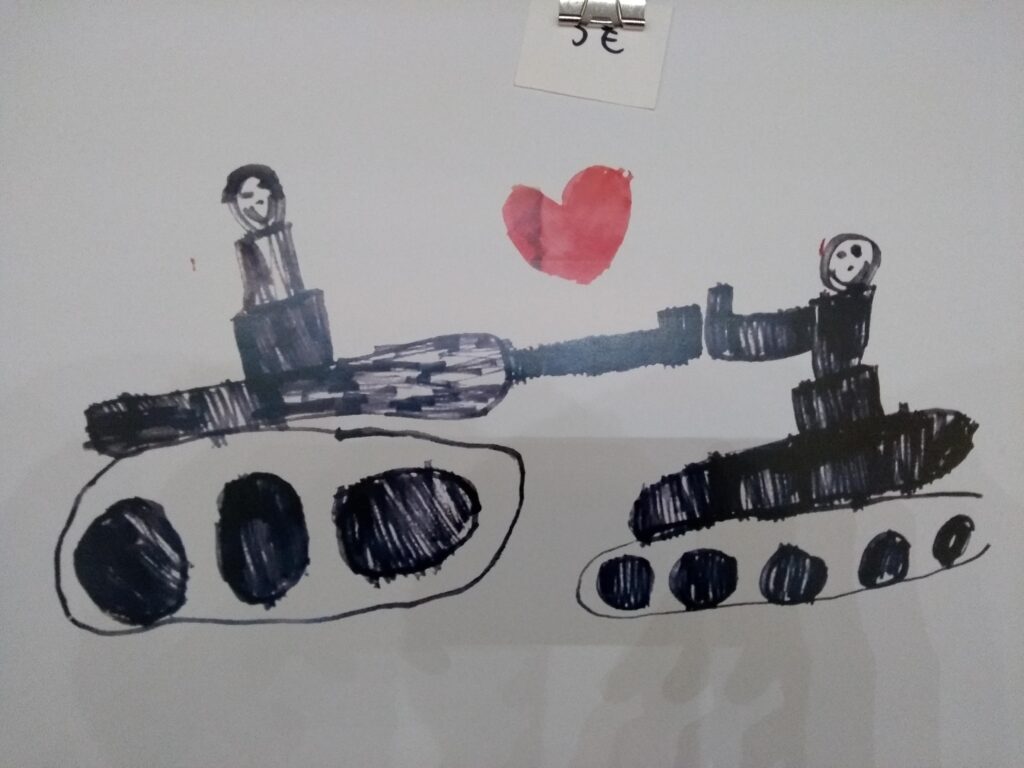 Zeitgleich fand das Fest des heiligen Kasimir statt. Es handelt sich dabei um Kasimir von Litauen, den zweiten Sohn des polnischen Königs Kasimir IV. – nicht um Casimir Pulaski, einen in Polen geborenen Kavallerieoffizier aus dem amerikanischen Revolutionskrieg. Der heilige Kasimir wird am 4. März, seinem Todestag (er wurde nur 25), gefeiert; Casimir Pulaski Day ist am ersten Montag im März, aber nicht in Vilnius, sondern in Illinois. Leicht zu verwechseln!
In the morning in the winter shade
On the first of March, on the holiday
I thought I saw you breathing
– Sufjan Stevens, Casimir Pulaski Day
Als der heilige Kasimir zwei Jahre lang seinen Vater in Krakau vertrat, regierte er sparsam, lebte bescheiden und zeigte sich barmherzig gegenüber Armen. Ihm zu Ehren waren die Straßen rund um die Kathedrale am letzten Freitag und ersten Wochenende im März ein einziger Basar voll traditioneller Leckereien und hübscher Dinge.
/
The feast of St Casimir took place at the same time. This is Casimir of Lithuania, the second son of the Polish King Casimir IV – not Casimir Pulaski, a Polish-born cavalry officer from the American Revolutionary War. St Casimir is celebrated on 4 March, the anniversary of his death (he only lived to be 25); Casimir Pulaski Day is on the first Monday in March, but not in Vilnius, but in Illinois. Easy to confuse!
In the morning in the winter shade
On the first of March, on the holiday
I thought I saw you breathing
– Sufjan Stevens, Casimir Pulaski Day
When St Casimir represented his father in Krakow for two years, he ruled frugally, lived modestly and showed mercy to the poor. In his honour, on the last Friday and first weekend in March, the streets around the cathedral were one big bazaar full of traditional goodies and pretty things.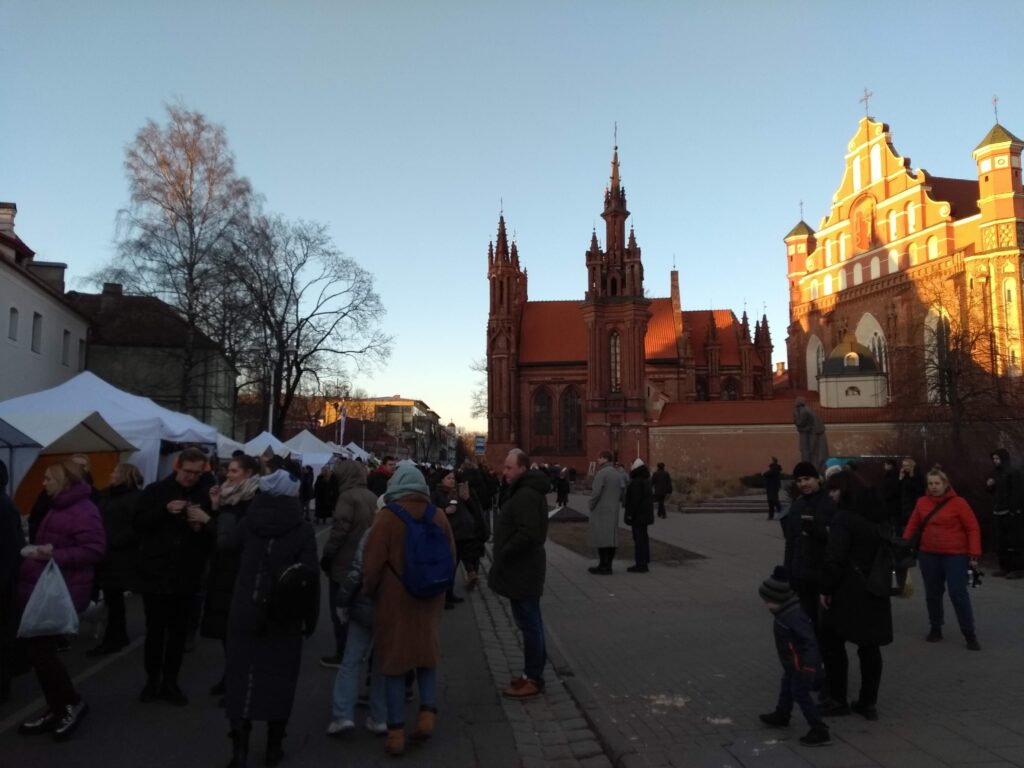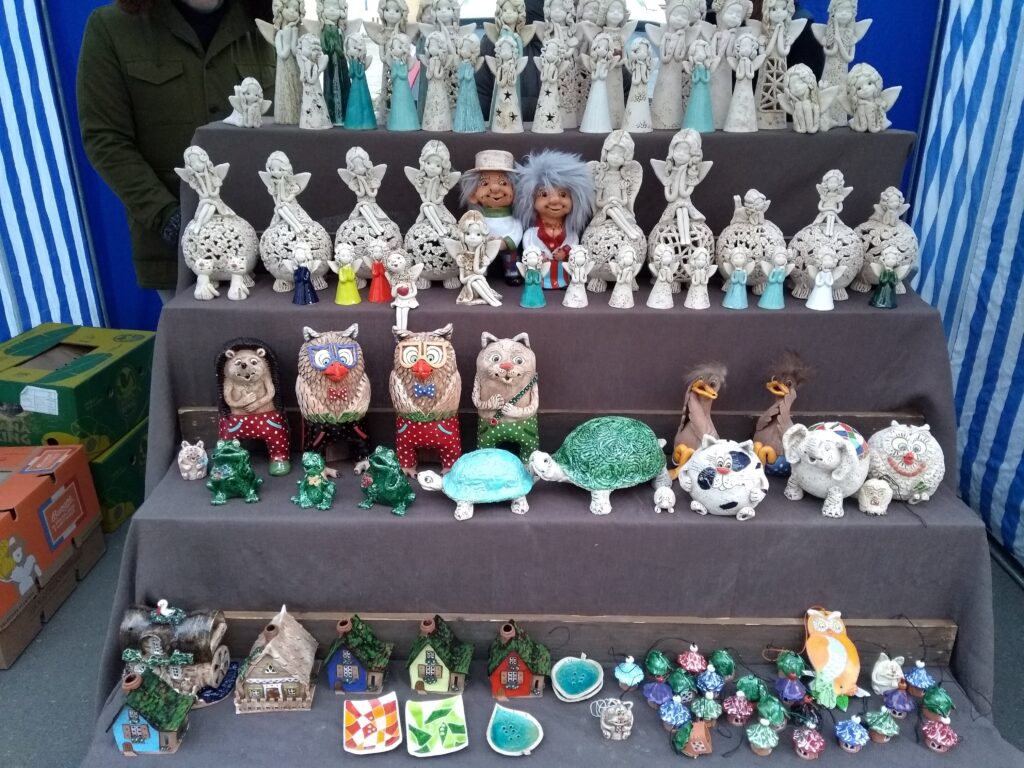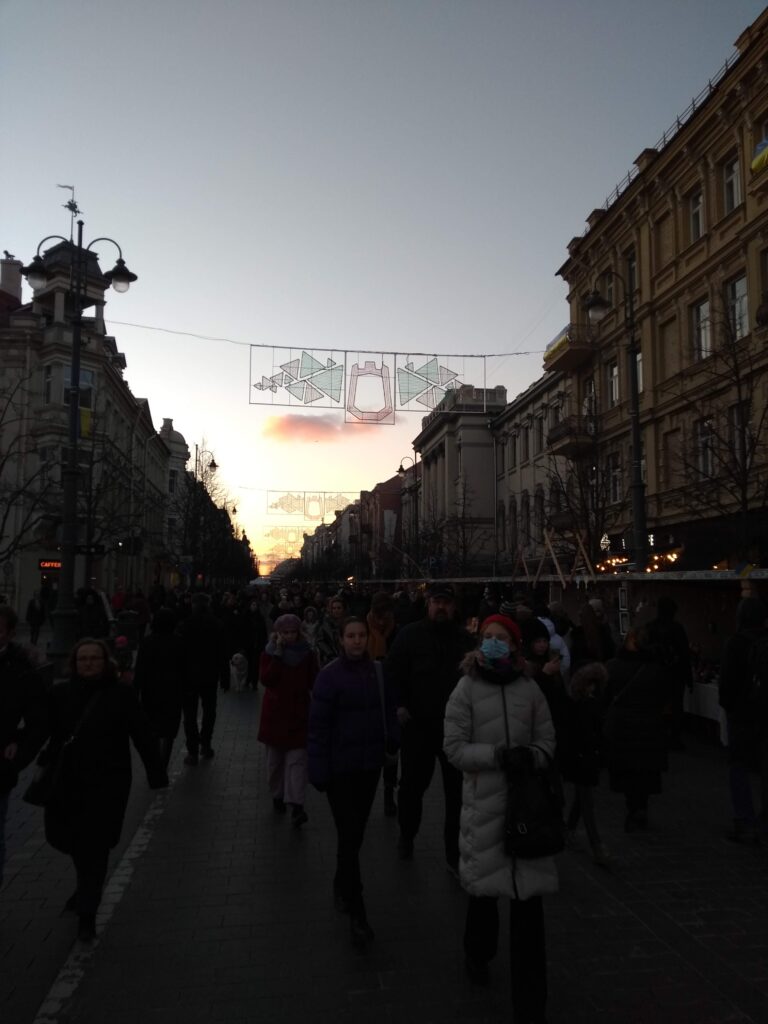 Es war eisig kalt. Minusgrade. Die Weihnachtsdeko über einer Straße scheint Anfang März fast noch berechtigt:
/
It was freezing cold. Minus degrees. The Christmas decorations above a street almost seem justified at the beginning of March: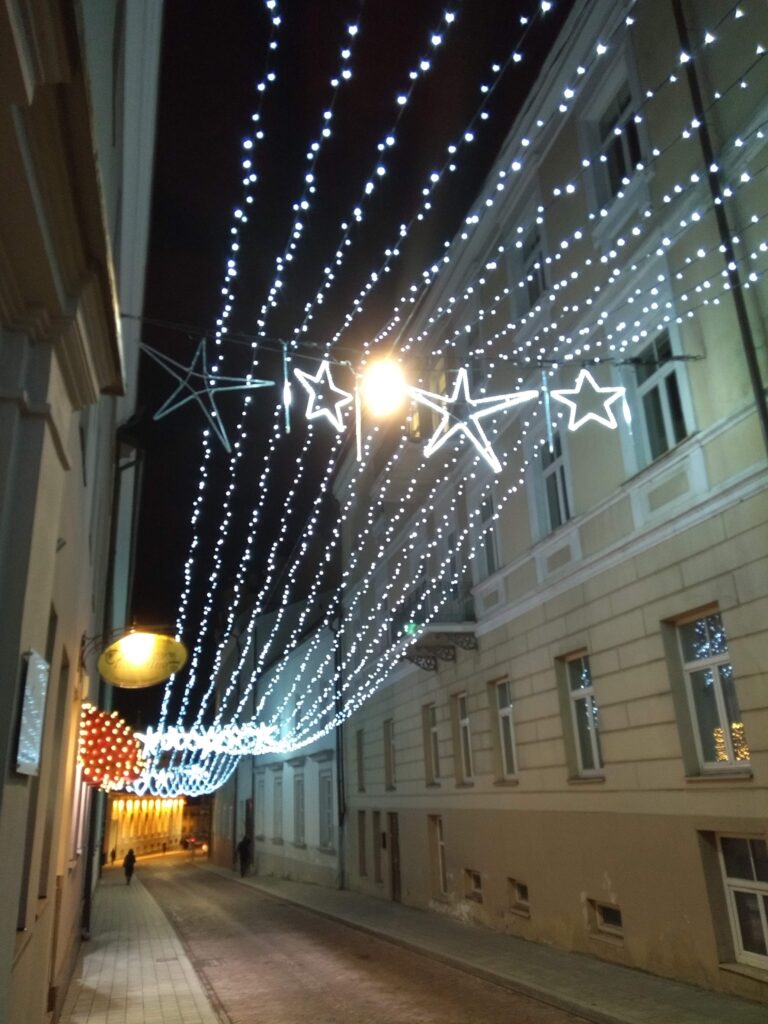 Diese Woche hat es noch mal geschneit. Es fielen dicke Flocken, als ich das Gymnasium in Uzupis fotografierte:
/
It snowed again this week. Thick flakes fell when I was photographing the high school in Uzupis: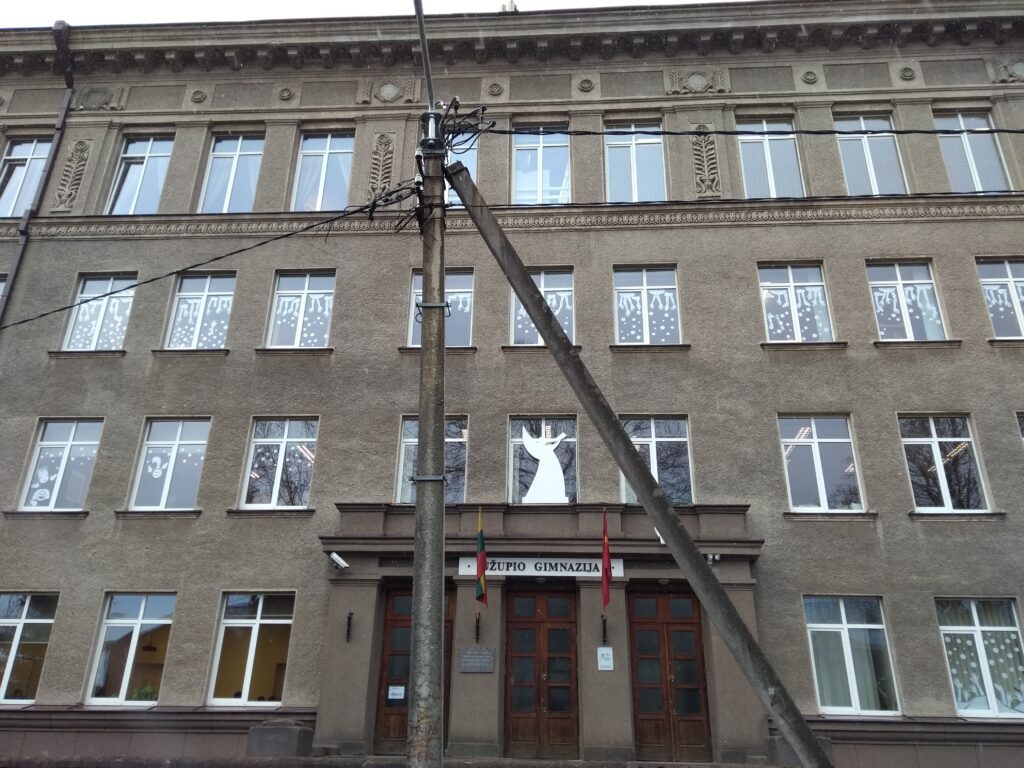 Dank des Schnees konnte ich den Waldweg entlangjoggen, der sonst immer noch zu vereist ist.
/
Thanks to the snow, I was able to jog along the forest path, which is otherwise still too icy.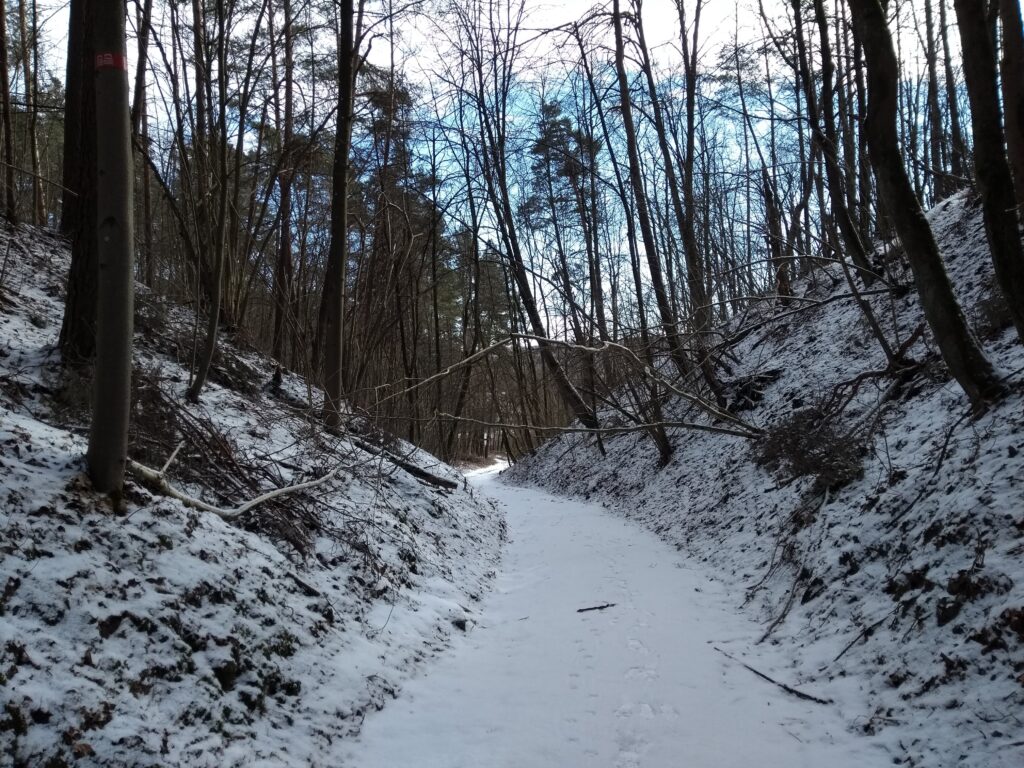 Trotzdem gibt es schon deutlich mehr Sonnenstunden als in den letzten Monaten des Wintersemesters. Das tut so gut!
/
Nevertheless, there are already significantly more hours of sunshine than in the last months of the winter semester. That feels so good!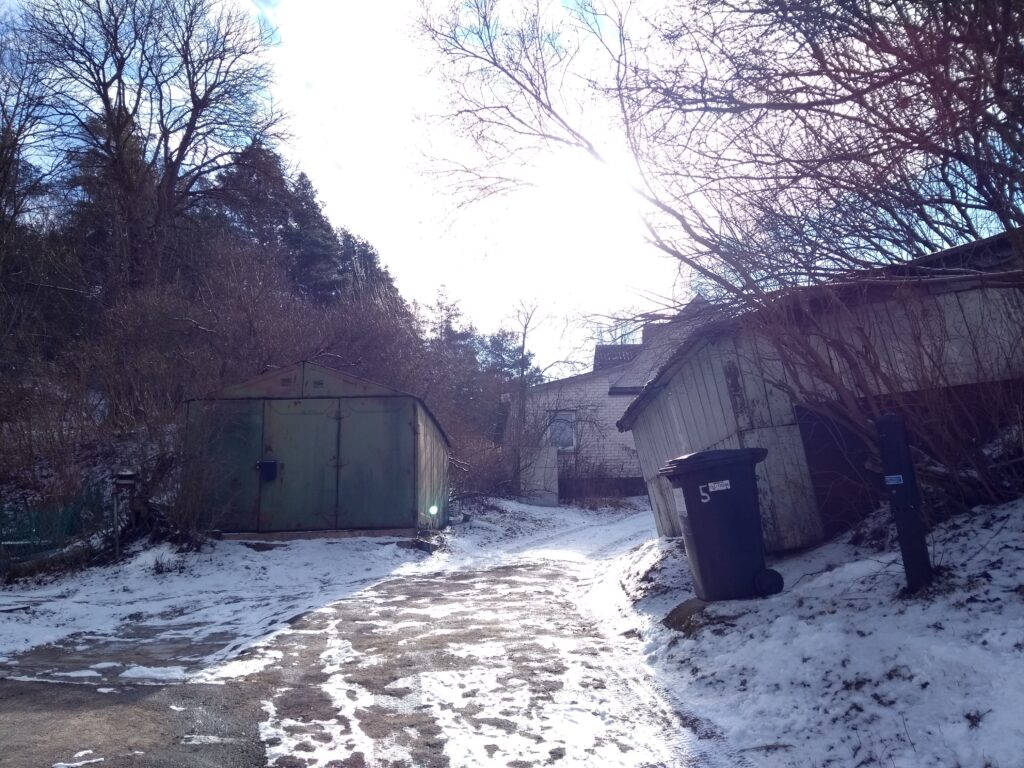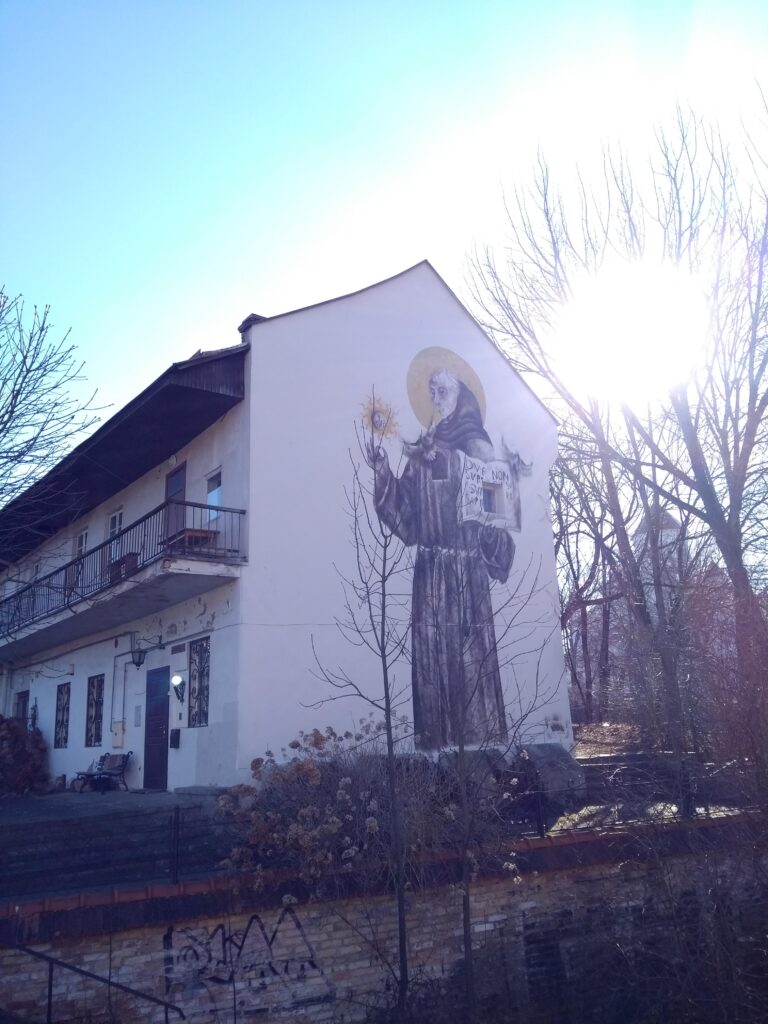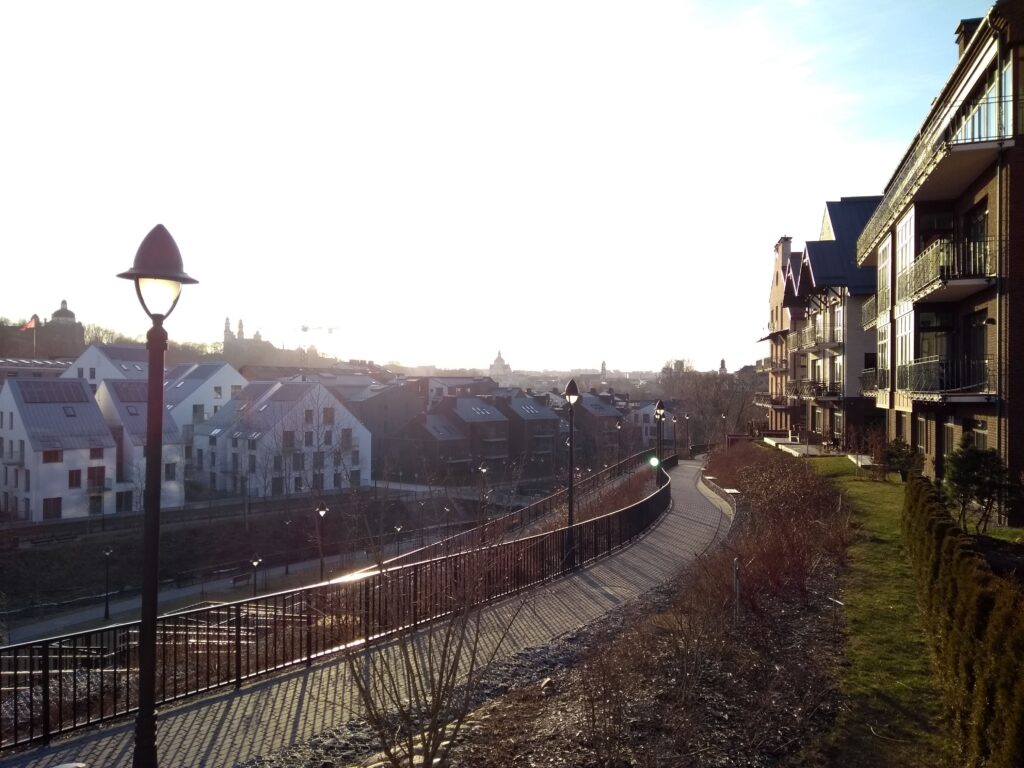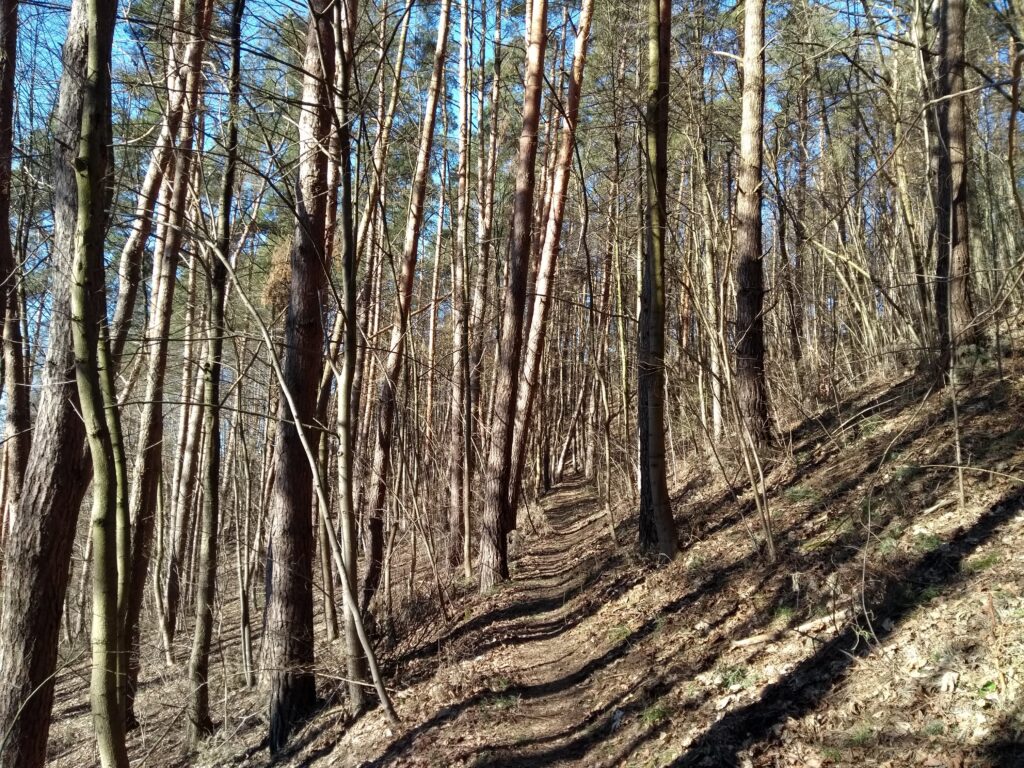 Als ich im Wald einen neuen Weg einschlug, habe ich diese verwunschene und verlassene Koppel entdeckt:
/
When I took a new path in the forest, I discovered this enchanted and abandoned paddock: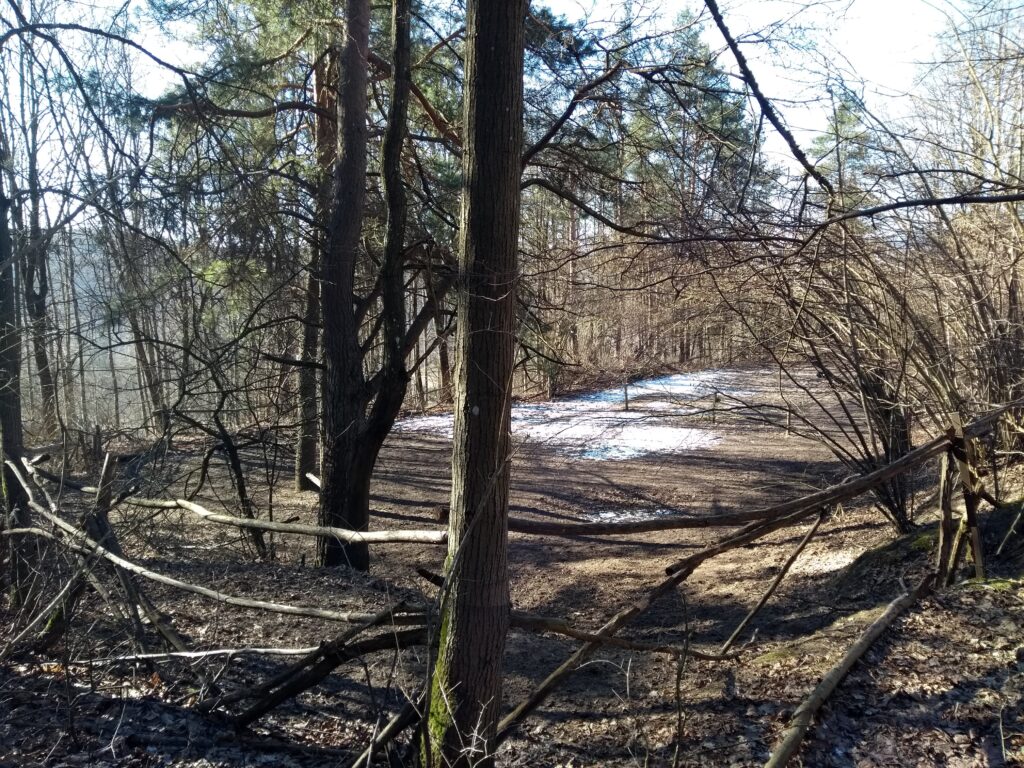 Gestern, am 11. März, genau eine Woche nach Saint Casimir's Day, war der zweite Unabhängigkeitstag Litauens, keine Uni. Nach der eingeleiteten Reformpolitik Gorbatschows erklärte sich Litauen als erste der 15 Sowjetrepubliken am 11.3.1990 für unabhängig. Mehrere Kampflugzeuge flogen traditionell über Vilnius und das Wohnheim und erschreckten nicht nur mich (Schatten und Lärm ließen mich zuerst von einem Flugzeugabsturz ausgehen). Ich ging mit Cozy ins Kino "Forum Cinemas Vingis", das noch die schönen, alten, roten Kinositze enthält, an die ich den Kopf nur lehnen kann, wenn ich tiefer in den Sitz sinke – ich würde jeden neumodischen Kinositz gegen einen dieser Sitze eintauschen, die mich in meine Kindheit und Geburtsstadt zurückversetzen. Wir sahen uns "Spencer" über Prinzessin Diana an, wie üblich auf Englisch mit litauischen Untertiteln.
/
Yesterday, 11 March, exactly one week after Saint Casimir's Day, was Lithuania's second Independence Day, lecture free at university. Following Gorbachev's reform policy, Lithuania was the first of the 15 Soviet republics to declare itself independent on 11 March 1990. Several fighter planes traditionally flew over Vilnius and the dormitory, scaring not only me (shadows and noise made me assume a plane crash at first). I went with Cozy to the cinema "Forum Cinemas Vingis", which still has the beautiful old red cinema seats that I can only lean my head against when I sink deeper into the seat – I would trade any new-fangled cinema seat for one of these seats that take me back to my childhood and birthplace. We watched "Spencer" about Princess Diana, as usual in English with Lithuanian subtitles.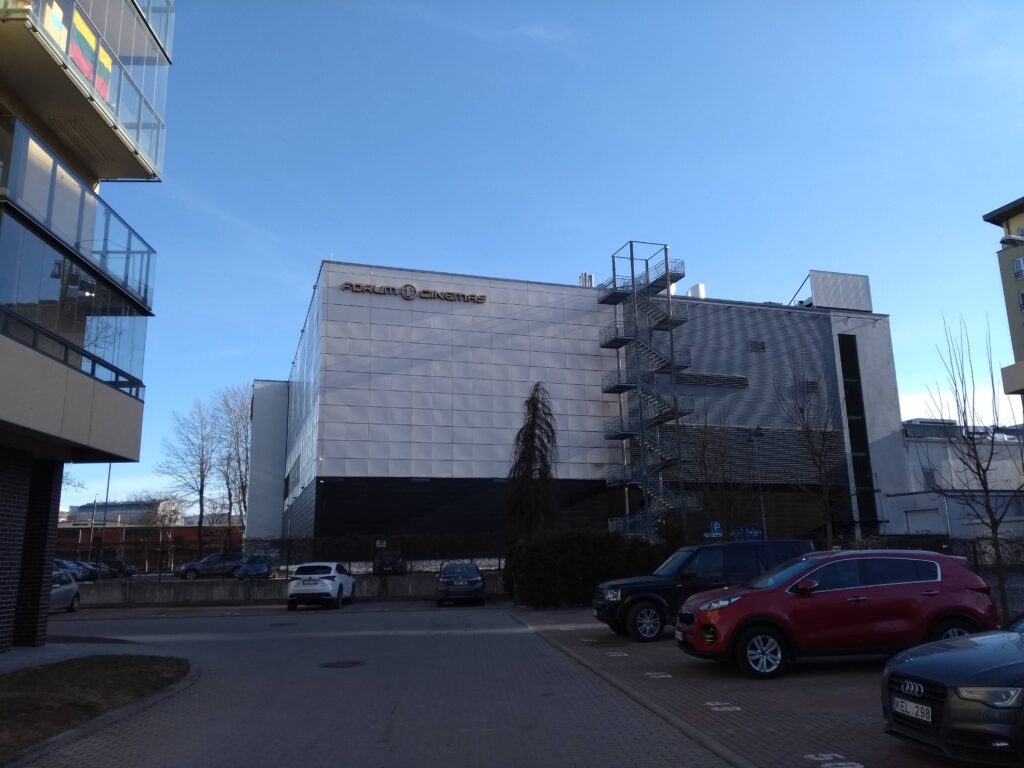 Später zeigte Cozy mir einen Aussichtspunkt, dessen Treppen eine traurige Geschichte haben. Während der Sowjetzeit enthielten sie Grabsteine eines jüdischen Friefhofs:
/
Later, Cozy showed me a viewpoint whose stairs have a sad history. During the Soviet period, they contained gravestones of a Jewish cemetery:
Wie an der Katze oben, laufe ich in Uzupis immer wieder an dem folgenden Clown, Schwein, Paar und Foto vorbei:
/
Like the cat above, I keep walking past the following clown, pig, couple and photo in Uzupis: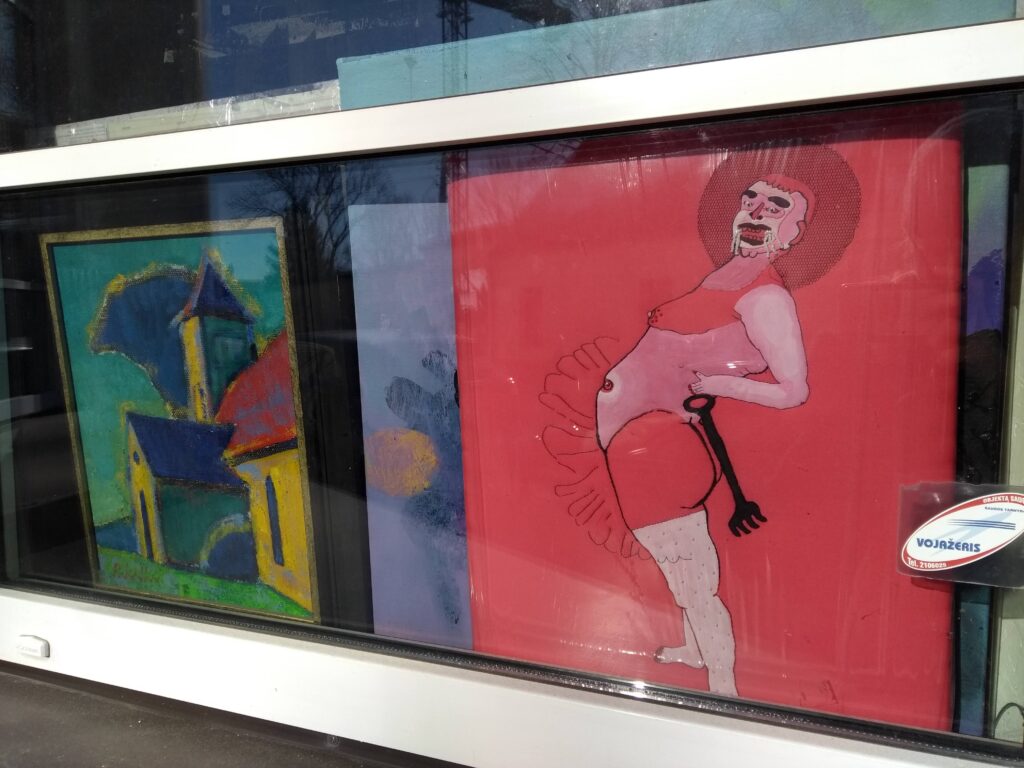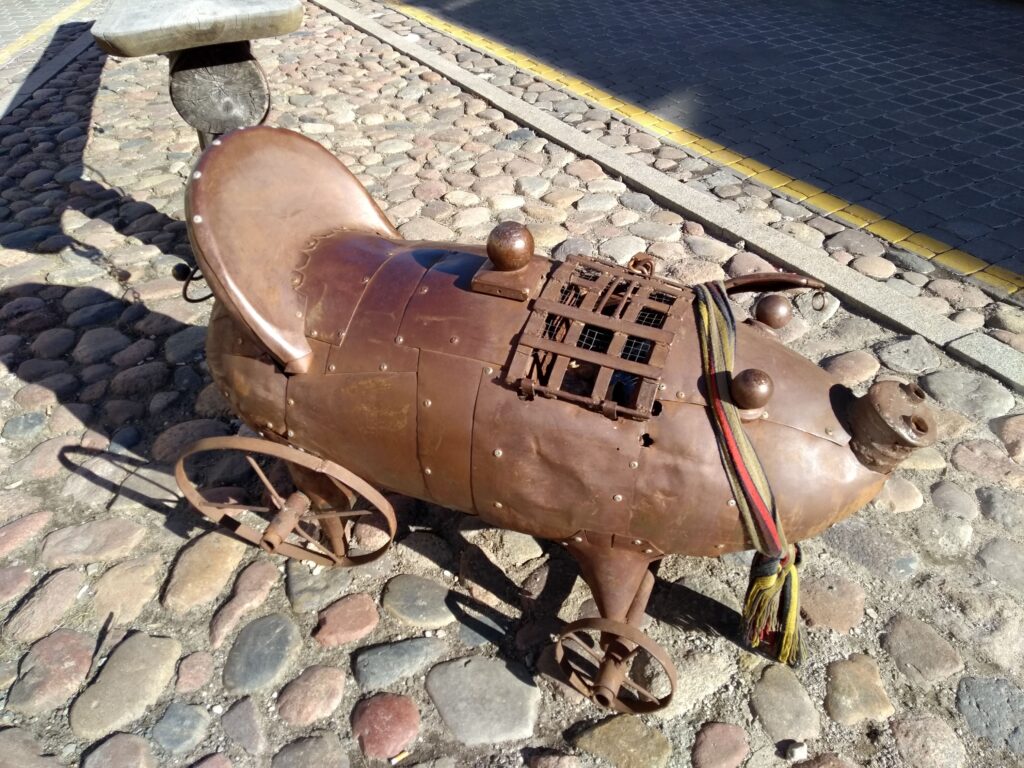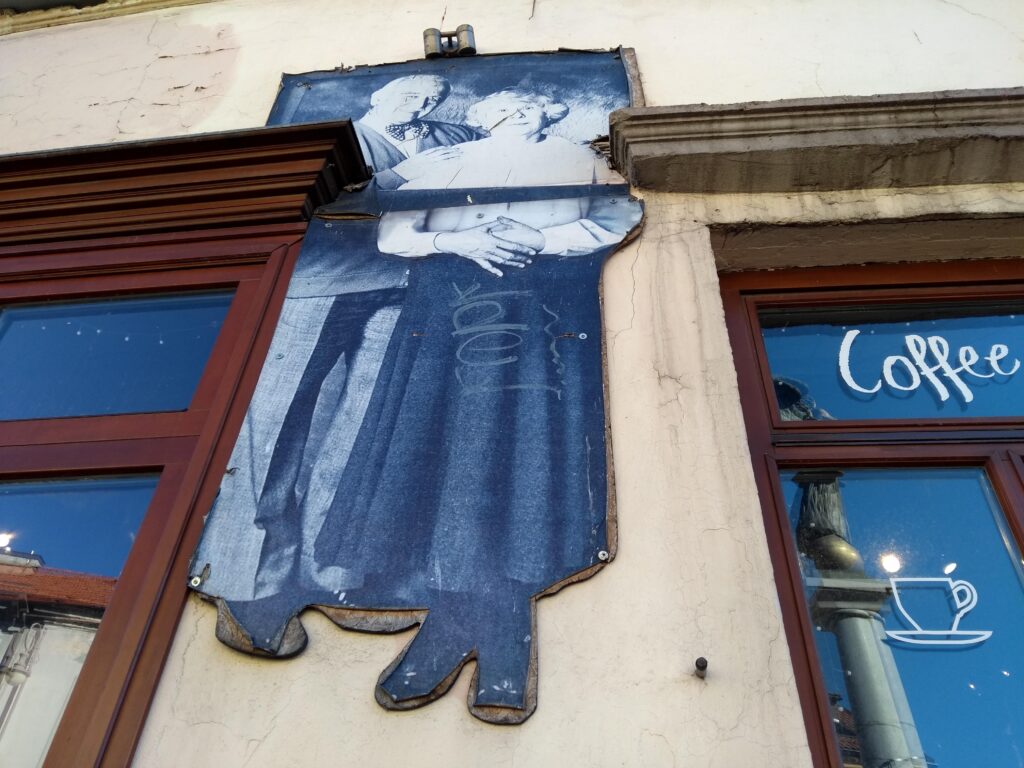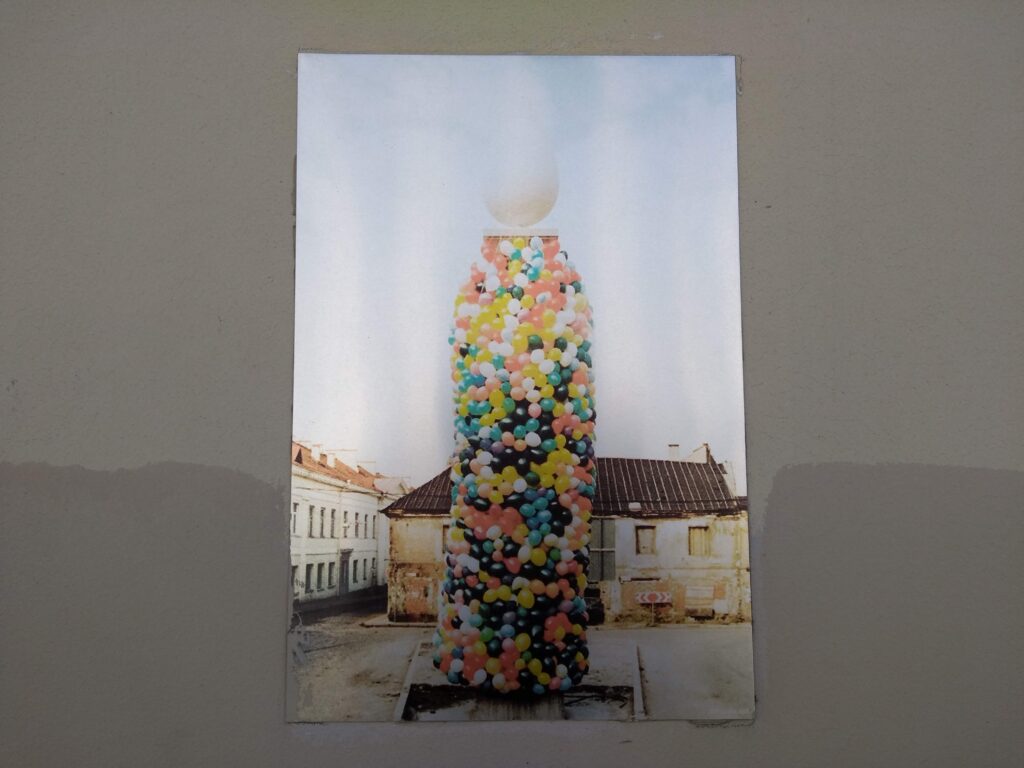 Ich habe aber auch wieder neue Straßenkunst entdeckt:
/
But I also discovered new street art again: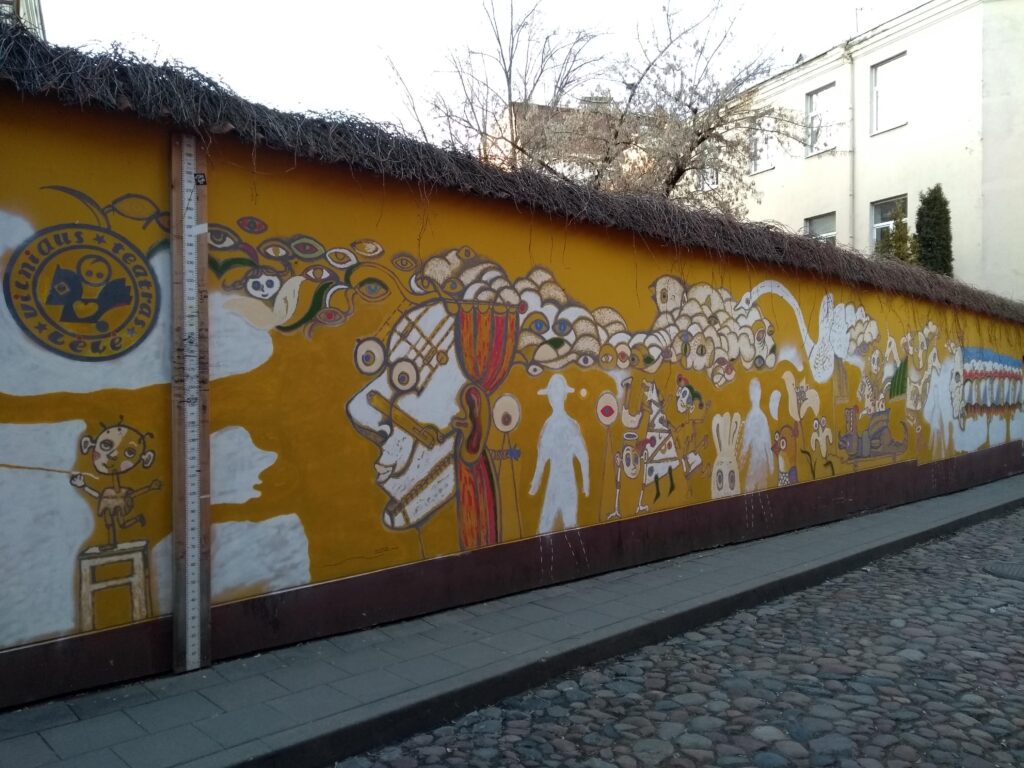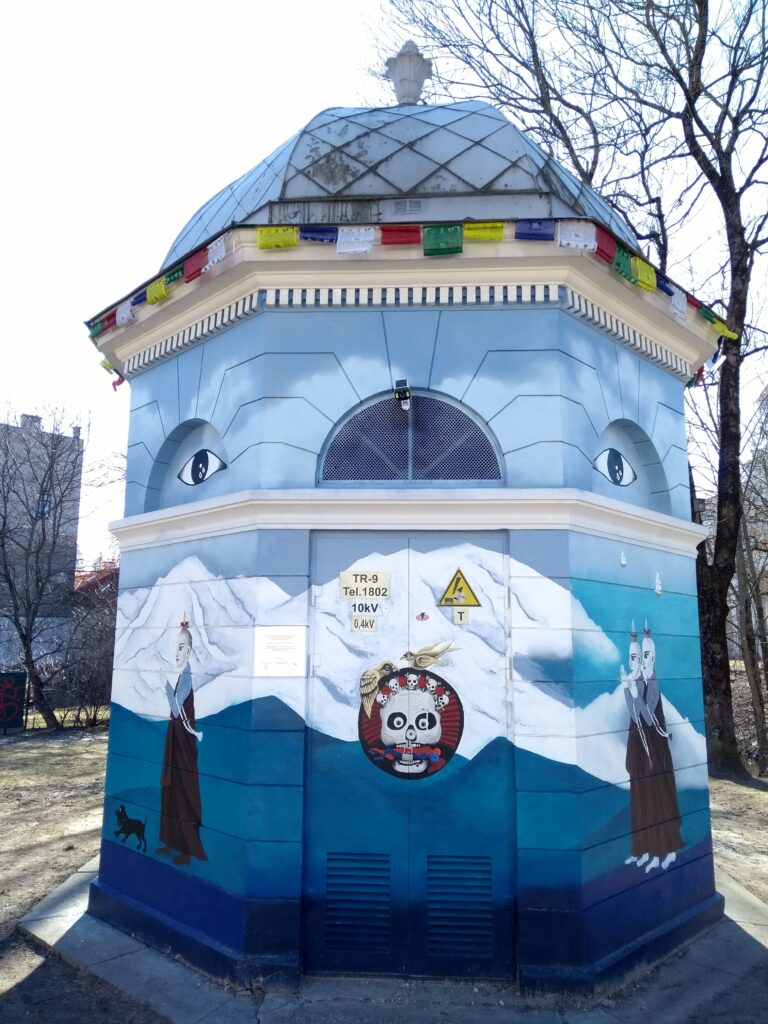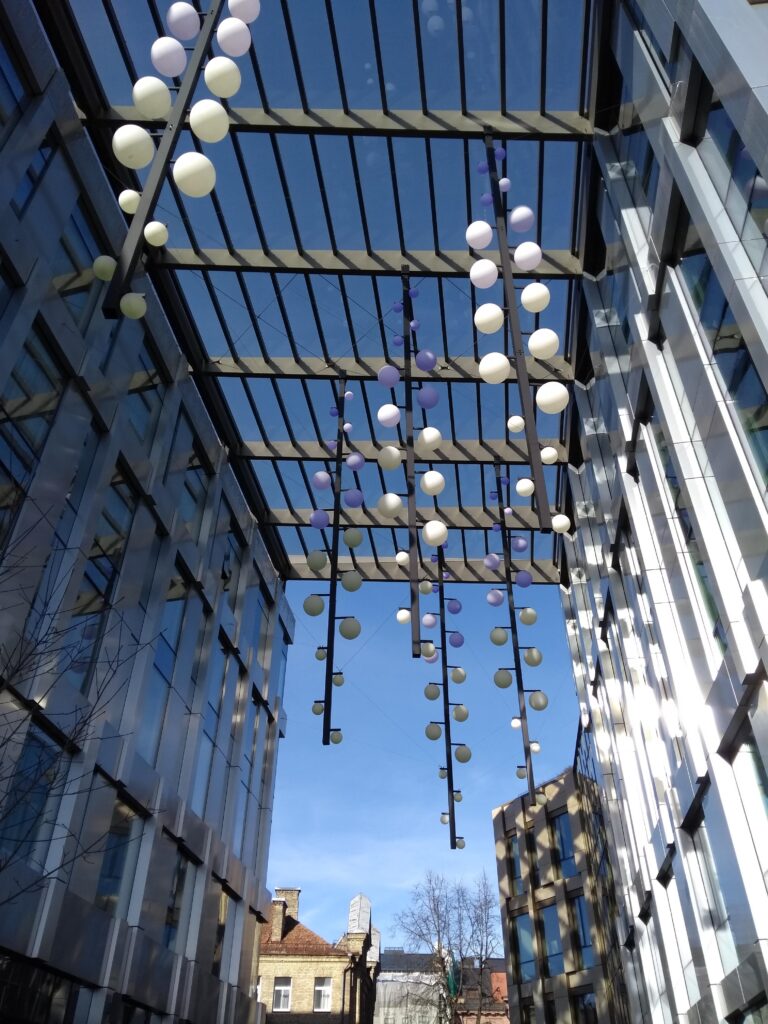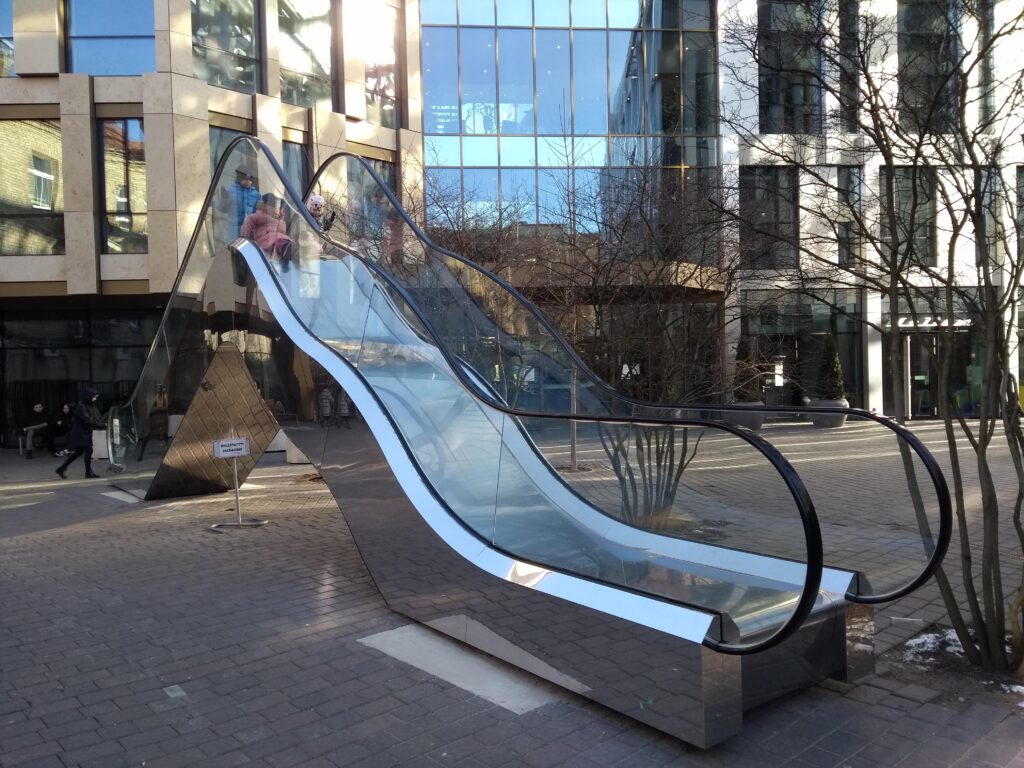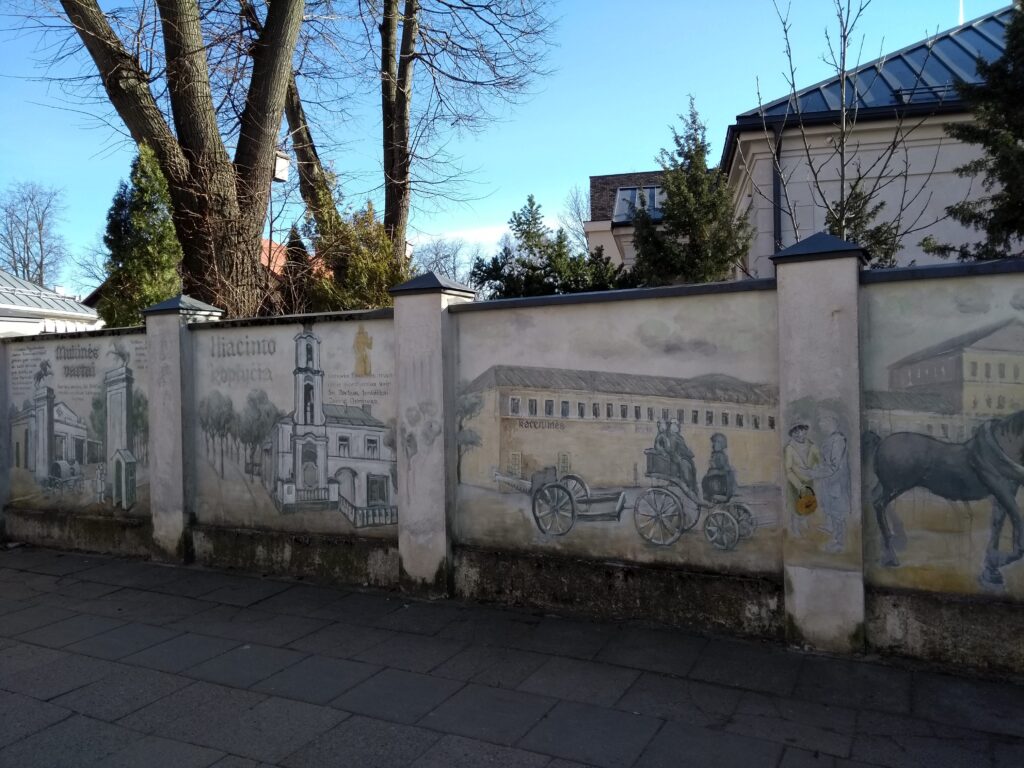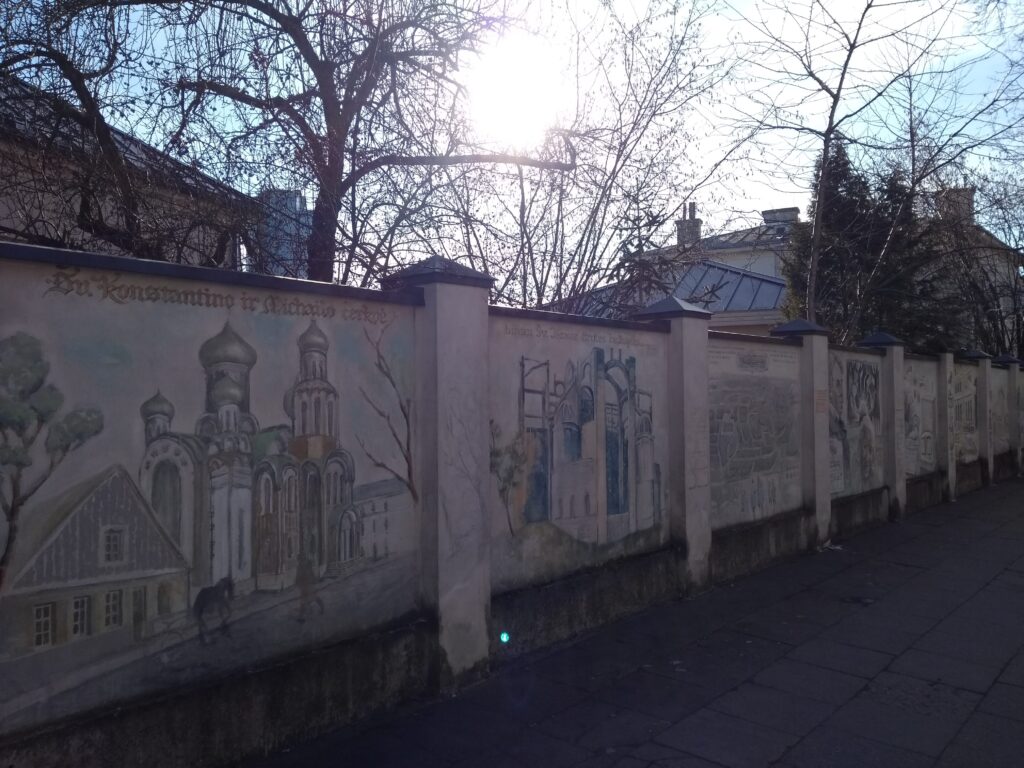 Das Schwein grunzt: "Wenig verschönert eine Stadt so wie Kunst!"
/
The Pig's Fart: "Few things beautify a city like art!"